bymygra™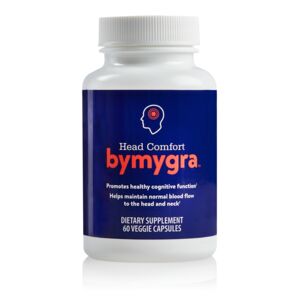 $34.95
$0.70
Single Bottle (30 Servings)
SKU: 13093
TLS Product Reviews
---
Displaying reviews 1 - 2 of 2
---
It's hard for me to know if this product is responsible for increased blood flow as it is fairly new but I had acupuncture and cupping yesterday and I'm 2 years older than the last time I had it and the acupuncturist noted the cupping left much more faded marks than the last time which would indicate increased blood flow.
Response from Customer Service:
04/21/2021
Dear Valued Customer,

Thank you for taking the time to share your thoughts on the bymygra! We are happy to hear you are pleased with the product!

Thank you again!
The Product Information Team
---
I won't go a day without taking this! Within 3 days a felt a huge different in my head and neck with less pressure and tension!
Response from Customer Service:
04/17/2021
Dear Valued Customer,

Thank you for taking the time to share your thoughts on the bymygra™! We are happy to hear you are pleased with the product!

Thank you again!
The Product Information Team