DNA Miracles® Natural Diaper Cream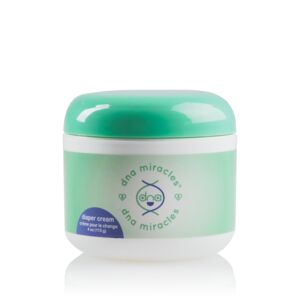 $17.95
$0.36
Single Jar (4 oz./113 g)
SKU: 6931
FEATURED RECOMMENDATIONS
TLS Product Reviews
---
Displaying reviews 1 - 5 of 8
---
Love love love this cream! I use it nightly on my daughter as a preventative measure and on the rare occasion she has had diaper rash, it's gone as fast as it appeared with a little of this cream! Goes on smooth and wipes off easily when you need it to. It's my go to gift for all my friends who are expecting and they are all just as hooked as I am!
Response from Customer Service:
02/12/2020
Dear Valued Customer,

Thank you for taking the time to leave your thoughts on the DNA Miracles Natural Diaper Cream! We are happy to hear you are pleased with the product.

Thank you again!
The Product Information Team
---
I used the DNA Naturals Diaper Cream with both of my kids and it worked the best. I found it easy to wipe off & never caked onto their skin like some products do. Highly recommended- Jessalea
---
This diaper cream is really great. I have used many other diaper creams and this one really works!
---
This Natural Diaper Cream was a game changer.
My primary experience with diaper cream was Desitin. It has an unpleasant smell that is difficult to get rid of as well as it is so heavy that it was often very uncomfortable for the little ones to remove it during a diaper change. I love this whipped diaper cream that has a skin barrier function and helps keep the skin hydrated. It is very simple to remove with no discomfort for the little ones. The pleasant scent is an added bonus.
---
My son got his first diaper rash at 3 months and I had tried balmax and desitin with no luck. I remembered that someone had bought me the DNA miracle diaper cream and put it on him, within a day, the rash had already started to go away. The best thing ever made.