DNA Miracles® Natural Foaming Wash & Shampoo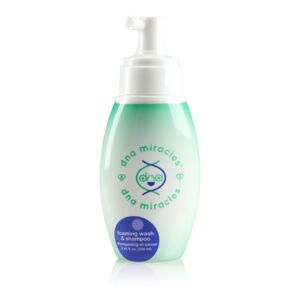 $13.95
$0.28
Single Bottle (8.5 fl. oz./250 ml)
SKU: 6932
FEATURED RECOMMENDATIONS
TLS Product Reviews
---
Displaying reviews 1 - 5 of 9
---
My granddaughers 8 & 9 absolutely love this product.
Response from Customer Service:
07/02/2021
Dear Valued Customer,

Thank you for taking the time to share your thoughts on the DNA Miracles® Natural Foaming Wash & Shampoo! We are so happy to hear you are pleased with this product.

Thank you again!
The Product Information Team
---
This is a great shampoo - babies don't like the rinsing part of hair wash time - this rinses quickly! Makes bath time so much easier.
---
Universal for kids of all ages!
I used this for my children when they were younger for bath time. I have graduated to the newer body wash and shampoo but still keep purchasing this product as a face wash for the boys (4 & 6). It is so gentle but does a fantastic job on face cleaning and they like to make their faces foamy!
---
Natural Foaming Wash & Shampoo is a "HIT!"
This was a "re-order" for our 5 mos. old granddaughter, Ava. Ava received the DNA Miracles "Natural Bath Time Box" from us on the day she arrived! We had the privilege of bathing her during her first overnight and we absolutely loved the foaming bath wash and shampoo. Knowing how safe and natural it was for Ava's skin was a comfort and knowing her parents value what goes on her body as much as we do makes us even happier. Thank you DNA Miracles!
---
As new parents, it is hard to know which products you can trust for your baby. After using a few different shampoos, we were given this product by a friend. Immediately we noticed less dryness on baby's skin. After 2 weeks of use, our baby no longer has rashes like he used to. Highly recommended!