DNA Miracles® Probiotics Extra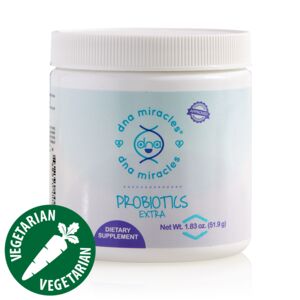 $37.95
$0.76
Single Jar (30 Servings)
SKU: 6901
TLS Product Reviews
---
Displaying reviews 1 - 4 of 4
---
Our 7 week old grandson had issues with his stomach and would throw up after eating. Giving him 1/4 scoop 4 times a day to introduce slowly has helped immensely.
Response from Customer Service:
04/22/2020
Dear Valued Customer,

Thank you for taking the time to leave your thoughts on the DNA Miracles Probiotics Extra! We are happy to hear you are pleased with the product.

Thank you again!
The Product Information Team
---
If there were 10 stars I would give it that rating! My daughter was born with acid reflux and was a constant crier. She was a few months old when my friend recommended this product for her. She was waking up every 2 hours to feed and in between those 2 hours she cried most of the time. She barely slept and neither did I. When I started putting this in her milk bottle, she slowly started getting better and her crying became less constant and we both were sleeping more! This product gave me my life back (more hours of sleep) and a less cranky baby!
---
One of my favorite products!
I started giving my baby Probiotics Plus when he was 12 mos old. He was waking up between 1-5am every night and needed a bottle to go back down. Within a couple days of starting him on it (adding it to his bottle), he was sleeping through the night! I believe the probiotics help him absorb the nutrients he needed from his daytime meals, thus he no longer needs the extra bottle in the middle of t
---
Disappointed on actual amount in container.
Container states that there are 30 full scoop servings. There were only 11 full scoops in our container. The scoop hit the bottom on first day, so I scooped out the remaining amount and it totaled 11 scoops. Almost $40/bottles and 11 servings, to me, is not worth the price at all. Maybe I just got a bad container, which I reported to my sales person...no response back from her.
Response from Customer Service:
09/08/2021
Dear Valued Customer,

Thank you for taking the time to share your feedback on the DNA Miracles® Probiotics Extra. We are so sorry to hear that this product did not meet your expectations and that the product did not contain the correct amount of product. We take the quality of our products very seriously and would be happy to assist you further! A Product Information and Quality Specialist will reach out to you directly shortly. We are confident that you will be pleased with the product going forward.

Thank you again!
The Product Information Team