DNA Miracles® Natural Diaper Cream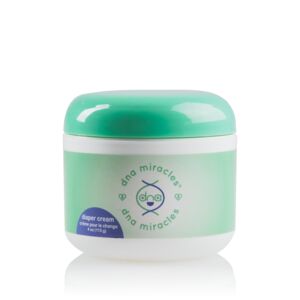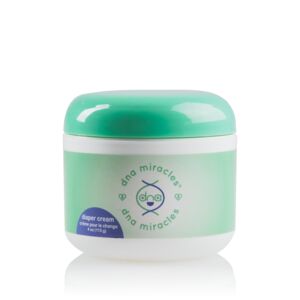 $19.95
$ 0.40
Single Jar (4 oz./113 g)
SKU: 6931
FEATURED RECOMMENDATIONS
Benefits
---
Helps insulate against minor skin irritation to keep your baby's skin soft and smooth
Helps moisturize, soothe and protect your baby's sensitive areas
Supports normal skin barrier functions to help keep the skin hydrated
Why Choose DNA Miracles Natural Diaper Cream?
---
DNA Miracles Natural Diaper Cream is a natural, non-toxic cream specially formulated to moisturize, soothe and protect your baby's sensitive areas. This cream helps seal out wetness and insulate against irritation to keep your baby's skin soft and smooth-looking.
Ingredients
---
Zinc Oxide
Zinc oxide is a mineral ingredient that can have multiple roles, including as a colorant and soothing agent, depending upon the finished product. Additionally, zinc oxide has been reported to help soothe dry, irritated skin.
Glycerin
Glycerin is a skin conditioning humectant ingredient. Humectants, like glycerin, moisturize the skin by attracting water from other sources, primarily from deeper within the skin in order to hydrate the outer skin layers. By doing this, glycerin helps the skin maintain adequate moisture so the skin retains a soft and smooth appearance. Glycerin has also been reported to maintain a normal skin barrier function.
Epilobium angustifolium (Willowherb) Flower/Leaf/Stem Extract
An extract from the plant more commonly known as willowherb, Epilobium angustifolium contains natural phenolic compounds like tannins and flavonoids, as well as the powerful antioxidant "oenothein B". These plant compounds have antioxidant and other natural properties that help to soothe and condition the skin, thereby helping to keep the skin looking and feeling smooth and soft.
Panthenol
Panthenol is an analog to vitamin B5 and can be converted to vitamin B5 in the skin. In cosmetics, it is classified as an emollient skin conditioning agent and, as such, it acts as a lubricant on the skin surface, which gives the skin a soft and smooth appearance. Panthenol has been reported to have soothing properties and to help maintain the skin's natural barrier functions, helping to keep the skin hydrated.
Allantoin
Allantoin has anti-irritant properties, which help to protect and soothe your skin, leaving it feeling softer and smoother.
Aloe barbadensis Leaf Juice
Enzymes, amino acids, vitamins, minerals and plant compounds in aloe vera help keep the skin moisturized. Additionally, aloe vera helps soothe and rejuvenate the skin, leaving it looking smooth and firm. Aloe vera also contains natural plant antioxidant compounds.

FAQs
---
What can cause baby's bottom to become irritated?
Minor skin irritation can occur from time to time as a result of prolonged exposure to urine and feces, introduction of new foods, rubbing from diapers that are too tight, and more.
What steps can be taken to avoid irritation on baby's bottom?
There are a number of steps parents can take, including changing diapers promptly, thoroughly pat (not scrub) the skin dry, don't over-tighten diapers, and use a cream or ointment with zinc oxide and petrolatum (or a natural petrolatum alternative) to keep baby's skin in good condition.
How does DNA Miracles Natural Diaper Cream work?
DNA Miracles Natural Diaper Cream combines a natural petrolatum alternative to create a barrier between your baby's skin and irritating wetness, and zinc oxide to soothe baby's skin.
When should I use DNA Miracles Natural Diaper Cream?
DNA Miracles Natural Diaper Cream should be used at every diaper change as needed to help insulate against irritation, and keep baby's skin soft and smooth.
Is DNA Miracles Natural Diaper Cream safe to use on newborns?
Yes, DNA Miracles Natural Diaper Cream is safe for all age babies. It is formulated with natural ingredients that are safe for a baby's delicate skin.
How do I use DNA Miracles Natural Diaper Cream?
First, gently clean the affected area with mild wipes or a warm wet washcloth. Make sure the affected area is dry before applying the diaper cream. Apply a thick layer of DNA Miracles Natural Diaper Cream with either a clean finger or cotton swab.
Can the diaper cream be used on cloth diapers?
DNA Miracles Natural Diaper Cream is not petroleum-based and therefore any residue can be removed from cloth diapers by warm water wash.

TLS Product Reviews
---
Displaying reviews 1 - 5 of 9
---
It feels gentil it provides moisture needed for dry areas to your skin and helps with any mild skin irritations. I use it for me. My teens love it. They prefer it over Vaseline.
Response from Customer Service:
02/11/2023
Dear Valued Customer,

Thank you for contacting Market America|Shop.com and for sharing this wonderful experience with us. It's great to know that you are satisfied with the product.

We hope that you and your family continues to enjoy the DNA natural diaper cream!

If you would like to call us directly, Preferred Customers please feel free to contact us at 1-866-420-1709 Monday-Friday between the hours of 9:00 a.m.-9:00 p.m. EST.

Have a wonderful day!

---
Love love love this cream! I use it nightly on my daughter as a preventative measure and on the rare occasion she has had diaper rash, it's gone as fast as it appeared with a little of this cream! Goes on smooth and wipes off easily when you need it to. It's my go to gift for all my friends who are expecting and they are all just as hooked as I am!
Response from Customer Service:
02/12/2020
Dear Valued Customer,

Thank you for taking the time to leave your thoughts on the DNA Miracles Natural Diaper Cream! We are happy to hear you are pleased with the product.

Thank you again!
The Product Information Team
---
I used the DNA Naturals Diaper Cream with both of my kids and it worked the best. I found it easy to wipe off & never caked onto their skin like some products do. Highly recommended- Jessalea
---
This diaper cream is really great. I have used many other diaper creams and this one really works!
---
This Natural Diaper Cream was a game changer.
My primary experience with diaper cream was Desitin. It has an unpleasant smell that is difficult to get rid of as well as it is so heavy that it was often very uncomfortable for the little ones to remove it during a diaper change. I love this whipped diaper cream that has a skin barrier function and helps keep the skin hydrated. It is very simple to remove with no discomfort for the little ones. The pleasant scent is an added bonus.