DNA Miracles® Natural Hydrating Baby Lotion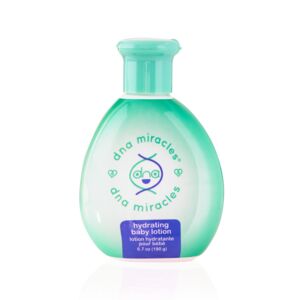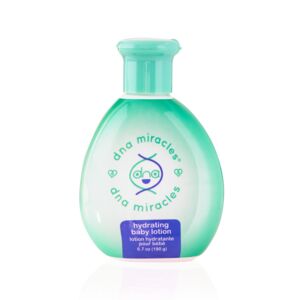 $18.95
$ 0.38
Single Bottle (6.7 oz./190 g)
SKU: 6930
FEATURED RECOMMENDATIONS
Benefits
---
Moisturizes with a combination of emollients and herbal extracts for skin that looks and feels smoother and softer
Supports normal skin barrier functions to help keep the skin hydrated
Helps soothe minor skin irritations
Why Choose DNA Miracles Natural Hydrating Baby Lotion?
---
DNA Miracles Natural Hydrating Baby Lotion is a natural, non-toxic body lotion specially formulated for your baby's face and body. Gentle on baby's sensitive skin and suitable for newborn use, this lotion helps moisturize and soothe your baby's skin.
Ingredients
---
Glycerin
Glycerin is a skin conditioning humectant ingredient. Humectants, like glycerin, moisturize the skin by attracting water from other sources, primarily from deeper within the skin in order to hydrate the outer skin layers. By doing this, glycerin helps the skin maintain adequate moisture so the skin retains a soft and smooth appearance. Glycerin has also been reported to maintain a normal skin barrier function.

Epilobium angustifolium (Willowherb) Flower/Leaf/Stem Extract
An extract from the plant more commonly known as willowherb, Epilobium angustifolium contains natural phenolic compounds like tannins and flavonoids, as well as the powerful antioxidant "oenothein B". These plant compounds have natural properties that help to soothe and condition the skin, thereby helping to keep the skin looking and feeling smooth and soft.

Panthenol
Panthenol is an analog to vitamin B5 and can be converted to vitamin B5 in the skin. In cosmetics it is classified as an emollient skin conditioning agent and, as such, it acts as a lubricant on the skin surface, which gives the skin a soft and smooth appearance. Panthenol has been reported to have soothing properties and to help maintain the skin's natural barrier functions, helping to keep the skin hydrated.

Aloe barbadensis (Aloe Vera) Leaf Juice
Enzymes, amino acids, vitamins, minerals and plant compounds in aloe vera help keep the skin moisturized. Additionally, aloe vera helps soothe skin. Aloe vera also contains natural plant antioxidant compounds.

Sodium Hyaluronate
Sodium hyaluronate is the sodium salt of hyaluronic acid. Hyaluronic acid is a vital moisturizer and lubricant found naturally in our skin. It provides superior, long-term moisturization, helping to keep the skin hydrated and supple.
FAQs
---
Why should I use a baby lotion?

Appropriate hydration is important for normal skin health. Because a baby's skin is thinner than our own, it can lose water more quickly. Bathing and changes in the weather, especially the winter cold, can also dry out a baby's skin. Using a baby lotion can help keep baby's skin properly hydrated and smooth.
At what age am I able to use the DNA Miracles Natural Hydrating Baby Lotion?
DNA Miracles Natural Hydrating Baby Lotion is great for all ages of life. Formulated to be gentle on delicate skin, this hydrating lotion allows the skin to receive all the locked-in moisture it needs.
Where can DNA Miracles Natural Hydrating Baby Lotion be applied?
DNA Miracles Natural Hydrating Baby Lotion is specially formulated for your baby's face and body.
When should lotion be applied?
Lotion can be applied after the bath or at any time of the day, but most people prefer to use lotion after a bath to lock in moisture. If you are bathing your baby once or twice a week, lotion can be applied whenever you choose or feel it necessary.
TLS Product Reviews
---
Displaying reviews 1 - 5 of 14
---
Bought this for my son. Ended up using it for myself also. The scent is subtle. Fresh and clean.
---
Love this...it doesn't cause a rash on my baby and it smells so good!
---
this product is everything it claims to be and more. Not just for babies
---
The only lotion I use... It makes my skin feel hydrated and silky. The best thing about it ... It has very little scent!!!
---
Great product for adults too!
I use this lotion both in winter and summer. It is not heavy at all and smell vey light---great for people who don't like artificial scent! I believe baby's product always has higher standard. So I use this on me too! Love it!