Isotonix Essentials® Women's Health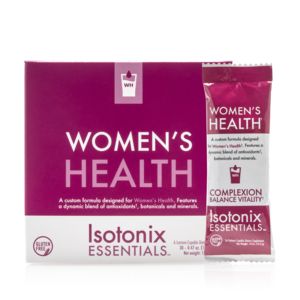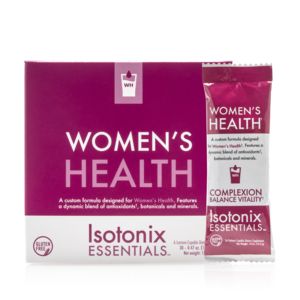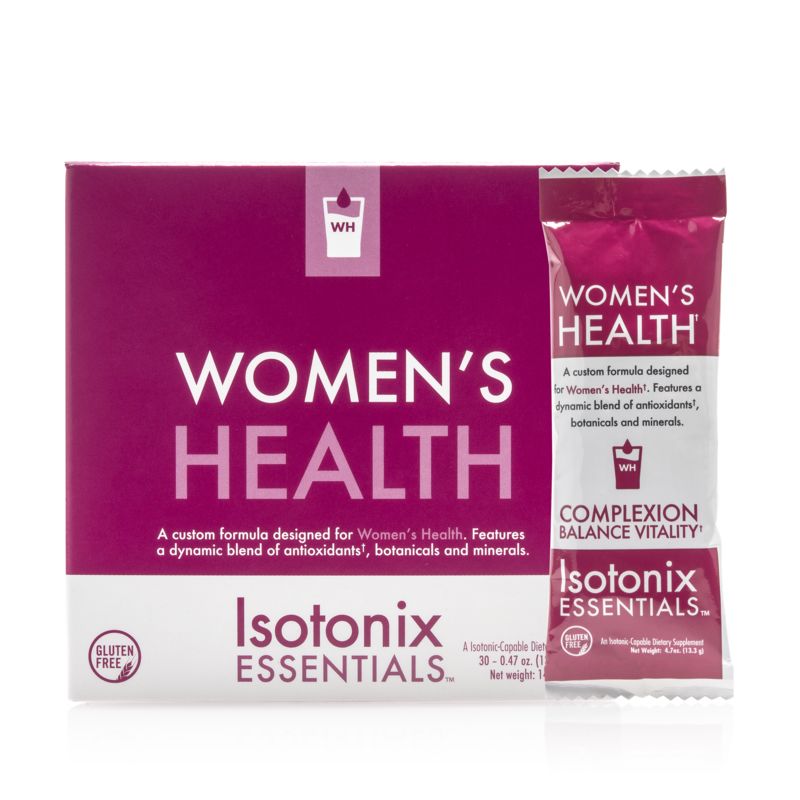 $79.95
$1.60
Single Box (30 Packets)
SKU: 6701
FEATURED RECOMMENDATIONS
Benefits
---
Supports a healthy complexion
Promotes healthy functioning of the skin at a cellular level, which results in health, vibrant-looking skin
Helps maintain normal cell health
Helps maintain healthy collagen production
Provides antioxidant protection for the entire body
Protects the body from free radicals
Helps support health bones, teeth, joints and skin
Helps maintain normal muscle and nerve function
Supports a healthy immune system
Supports cardiovascular health
Promotes cognitive health
Product Classifications
---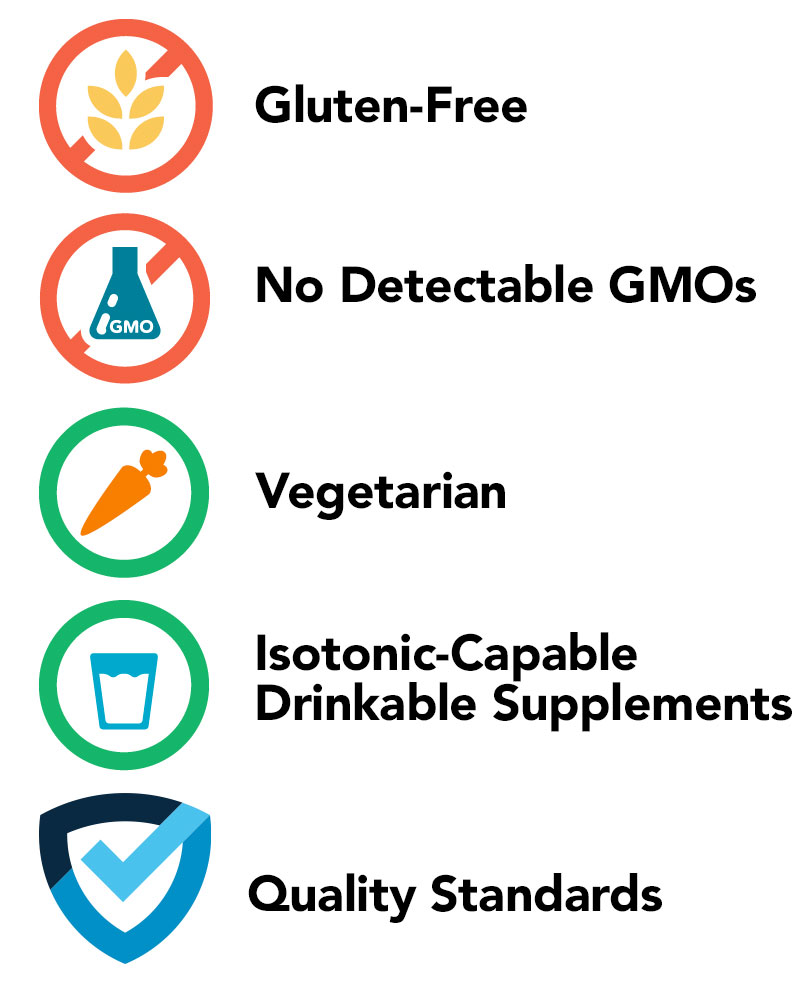 Gluten-Free - The finished product contains no detectable gluten (<10ppm gluten)
No Detectable GMOs - The finished product contains no detectable genetically-modified organisms
Vegetarian - This product is vegetarian
Isotonic-Capable Drinkable Supplements - Easy-to-swallow supplements in liquid form are immediately available to the body for absorption
Quality Standards - GMP Operations and Standardized Ingredients
Checked For: Heavy Metals, Microbiological Contaminants, Allergens, Residual Solvents, Potency, Purity and Identity
Description
---
As jetsetters and go-getters, women are constantly on the move. There's a lot to think about all the time, so maintaining a healthy lifestyle can get pushed to the back burner. However, your health should take precedence. Cardiovascular health, skin and bone health are extremely important concerns. Want to take charge of your wellness, but need something to keep up with the super woman lifestyle you're leading?*

Look and feel vibrant with Isotonix Essentials® Women's Health custom blend formula. More than a multivitamin, Women's Health supports a healthy complexion, helps support healthy bones, teeth, joints and skin, and provides antioxidant protection for your entire body. Women will benefit from receiving the foundation of nutrients that deliver vibrancy, while supporting cardiovascular and cognitive health and helping to maintain healthy collagen production.*

So while you're managing life like a champ, let Women's Health be there to back you up!*
Directions For Use
---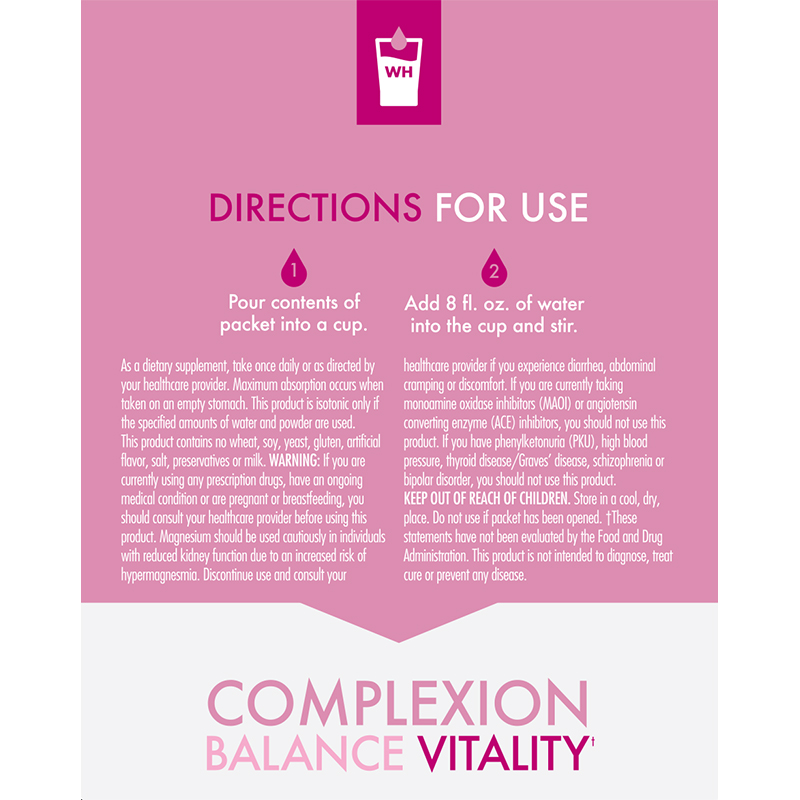 1. Pour contents of packet into a cup.
2. Add 8 fl. oz. of water into the cup and stir.
As a dietary supplement, take once daily or as directed by your healthcare provider. Maximum absorption occurs when taken on an empty stomach. This product is isotonic only if the specified amounts of water and powder are used.
FAQs
---
What does Isotonix® mean?
Isotonix® dietary supplements are delivered in an isotonic liquid solution. This means that the body has less work to do in obtaining maximum absorption. The isotonic state of the suspension allows nutrients to pass efficiently into the small intestine and be rapidly delivered into the bloodstream. With Isotonix® products, little nutritive value is lost, making the absorption of nutrients highly efficient while delivering maximum results.*
Who should use Isotonix Essentials® Women's Health?
Females 18 years of age and older who want to support healthy skin and body, specific to women's needs.*
How do I take Isotonix Essentials® Women's Health?
Pour contents of packet into a cup. Add 8 fl. oz of water into the cup and stir.

How often should I use Isotonix Essentials® Women's Health?
As a dietary supplement, take once daily or as directed by your healthcare provider.
What ingredients make this supplement beneficial to women?
Magnesium (Glycinate) makes Women's Health bioavailable and supports cognitive health*
Nutrients in Women's Health help support collagen production, strong hair and nails*
How is Isotonix Essentials® Women's Health different from other similar supplement products on the market?
Many women's health supplements focus on botanicals or herbs that have a complex mechanism of action. More than many other products on the market, Isotonix Essentials® Women's Health meets a diversity of female needs.*
Are there any contraindications or warnings for this product?
If you are currently using any prescription medication, have an ongoing medical condition or are pregnant or breastfeeding, you should consult your healthcare provider before using this product. Magnesium should be used cautiously in individuals with reduced kidney function due to an increased risk of hypermagnesemia. Discontinue use and consult your healthcare provider if you experience diarrhea, abdominal cramping or discomfort.


*These statements have not been evaluated by the Food and Drug Administration. This product(s) is not intended to diagnose, treat, cure or prevent any disease.
Ingredients
---
Calcium (Lactate, Sulfate): 557 mg
Calcium is found in milk, cheese, yogurt, corn tortillas, napa (Chinese cabbage), kale and broccoli. Calcium is an essential mineral with a wide range of biological roles. Calcium exists in bone, primarily in the form of hydroxyapatite (Ca10 (PO4)6 (OH)2). Hydroxyapatite comprises approximately 40 percent of the weight of bone.
Magnesium (Citrate, Glycinate, Carbonate): 450 mg
A women's body has unique needs based on her age, weight and physical fitness. While some women experience the effects of premenstrual syndrome, others need help as it relates to menopause, while every woman could use more energy.
Potassium (Bicarbonate): 320 mg
Potassium is an electrolyte stored in the muscles. Foods rich in potassium include bananas, oranges, cantaloupe, avocado, raw spinach, cabbage and celery. Potassium is an essential macromineral that helps maintain fluid balance in the body. It also supports a wide variety of biochemical and physiological processes.
Vitamin C (Ascorbic Acid): 109 mg
Vitamin C, also known as ascorbic acid, is a water-soluble vitamin that has a number of biological functions. Vitamin C is found in peppers (sweet, green, red, hot red and green chili), citrus fruits and brussel sprouts, cauliflower, cabbage, kale, collards, mustard greens, broccoli, spinach, guava, kiwi fruit, currants and strawberries.
Vitamin E Acetate (d-Alpha-Tocopheryl-Acetate): 53 mg
The most valuable sources of dietary vitamin E include vegetable oils, margarine, nuts, seeds, avocados and wheat germ. Safflower oil contains large amounts of vitamin E (about two thirds of the RDA in ¼ cup), and smaller amounts are found in corn oil and soybean oil.
Niacinamide (Vitamin B3): 30 mg NE
Niacin supports the proper functioning of the digestive system, skin and nerves. It works with vitamins B1 and B2 to promote the conversion of food to energy. Niacin is found in dairy products, poultry, fish, lean meats, nuts, eggs, legumes, and enriched breads and cereals.*

D-Calcium Pantothenate (Vitamin B5): 25 mg
Pantothenic acid (B5) promotes proper neurotransmitter activity in the brain. Pantothenic acid is also known as the anti-stress vitamin, and supports the normal secretion of hormones essential for optimal health.*

Pine Bark Extract (Pycnogenol®): 20 mg
Pycnogenol® is a natural plant extract from the bark of the maritime pine tree, which grows exclusively along the coast of southwest France in Les Landes de Gascogne. This unspoiled and natural forest environment is the unique source of pine bark.
Grape Seed Extract: 12.5 mg

Grape seed extract is typically extracted from the seeds of red grapes (instead of white), which have a high content of compounds known as oligomeric proanthocyanidins (OPCs). Grape seed extract is extremely rich in polyphenols, compounds with high antioxidant activity.
Red Wine Extract: 12.5 mg
Red wine extract is a powerful antioxidant. It is found in grape vines, roots, seeds and stalks, with the highest concentration in the skins. The antioxidant properties of red wine extract contribute to maintaining healthy circulation in capillaries, arteries and veins, and promoting overall cardiovascular health.*
Bilberry Extract: 12.5 mg
Bilberry extract is derived from the leaves and berry-like fruit of a common European shrub closely related to the blueberry. Extracts of the ripe berry are known to contain flavonoid pigments known as anthocyanins, which are powerful antioxidants.
Citrus Extract (Bioflavonoids): 12.5 mg
Bioflavonoids are antioxidants found in certain plants that act as light filters, which protect delicate DNA chains and other important macromolecules by absorbing ultraviolet radiation. They have been found to promote cardiovascular health and help maintain healthy circulation in capillaries, arteries and veins.*
Iron (Pyrophosphate, SunActive® Fe): 10 mg
Iron is mainly found in citrus fruits, tomatoes, beans, peas, fortified bread and grain products such as cereal (non-heme iron sources). Beef, liver, organ meats and poultry comprise the heme iron sources. The heme iron sources are more absorbable than the non-heme type of iron.
SunActive Fe® is a registered trademark of Taiyo International, Inc.

Vitamin B6 (Pyrodoxine HCl, Pyridoxal-5-Phosphate): 8 mg
Poultry, fish, whole grains and bananas are the main dietary sources of vitamin B6. B6 supports normal protein and amino acid metabolism, and helps maintain proper fluid balance. It also assists in the maintenance of healthy red and white blood cells, which is important for overall health.
Hyaluronic Acid (Sodium Hyaluronate): 7.5 mg

Hyaluronic acid or hyaluronate is a glycosaminoglycan distributed widely throughout connective, epithelial and neural tissues, and is commonly used in skin care products. It is one of the main constituents of the extracellular matrix and it promotes healthy cell proliferation and migration.
Riboflavin (Vitamin B2): 4.5 mg

Vitamin B2 is a water-soluble vitamin that promotes the normal processing of amino acids and fats, activation of vitamin B6 and folic acid, and supports the conversion of carbohydrates into the fuel the body runs on, adenosine triphosphate (ATP).
Thiamin HCl (Vitamin B1): 3.5 mg
Thiamin promotes normal carbohydrate metabolism and nerve function. Thiamin is required for a healthy nervous system, and supports the production of certain neurotransmitters which have an important role in muscle function.
Zinc (Lactate): 3.75 mg
Zinc is an essential mineral that is a component of more than 300 enzymes that support normal healing, fertility in adults and growth in children, protein synthesis, cell reproduction, vision, immune function, and protection against free radicals, among other functions.*

Folate [as (6S)-5-methyltetrahydrofolic acid, glucosamine salt, Quatrefolic®]: 837 mcg
Folic acid is mainly found in fruits and vegetables. Dark, leafy greens, oranges, orange juice, beans, peas and Brewer's yeast are the best sources. Folic acid plays a key role by supporting the benefits of B12 supplementation.
Quatrefolic® is the glucosamine salt of (6S)-5-methyltetrahydrofolate, the most active form of folate, as it is structurally analogous to the reduced and active form of folic acid.

Quatrefolic® is the registered trademark of Gnosis S.p.A. and is protected by U.S. Patent No. 7,947,662.
Vitamin A (20% beta-carotene): 600 mcg RAE

Vitamin A is a fat-soluble vitamin. Sources of vitamin A include organ meats (such as liver and kidney), egg yolks, butter, carrot juice, squash, sweet potatoes, spinach, peaches, fortified dairy products and cod liver oil.
Biotin: 525 mcg
Biotin is a part of the B-vitamin family. The B-vitamins are important co-factors, which promote the normal metabolism of fats, carbohydrates and protein.

Cyanocobalamin (Vitamin B12): 126 mcg
Vitamin B12 (cobalamin) is a bacterial product naturally found in animal products, especially organ meats, such as liver, with small amounts derived from peanuts and fermented soy products, such as miso and tempeh.

Iodine (Potassium Iodide): 75 mcg
Iodine is found in most seafood and in iodized salt. The trace element supports more than a hundred enzyme systems such as energy production, nerve function and hair and skin growth.
Vitamin D3 (Cholecalciferol): 25 mcg (1000 IU)
Regular sunlight exposure is the main way that most humans obtain vitamin D. Food sources of vitamin D include vitamin D-fortified milk (100 IU per cup), cod liver oil, fatty fish (such as salmon) and small amounts are found in egg yolks and liver.*
Science
---
Altura B et al. Magnesium deficiency-induced spasms of umbilical vessels: relation to preeclampsia, hypertension, growth retardation. Science. 221(4608):376-8, 1983.
Altura BM and Altura BT. Magnesium and cardiovascular biology: An important link between cardiovascular risk factors and atherogenesis. Cell Mol Biol Res. 41:347-59, 1995.
Ames, BN, et al. Oxidants, antioxidants, and the degenerative diseases of aging. Proc Natl Acad Sci USA 90:7915-7922, 1993.
Appel LJ. Nonpharmacologic therapies that reduce blood pressure: A fresh perspective. Clin Cardiol. 22:1111-5, 1999.
Bagchi, D, et al. Cellular protection with proanthocyanidins derived from grape seed. Ann NY Acad Sci 957:260-70, 2002.
Bagchi, D, et al. Free radicals and grape seed proanthocyanidin extract: importance in human health and disease prevention. Toxicology 148: 187-97, 2000.
Bagchi, D, et al. Oxygen free radical scavenging abilities of vitamins C and E, and a grape seed proanthocyanidin extract in vitro. Res Commun Mol Pathol Pharmacol 95:179-89, 1997.
Barker J. Insomnia options; natural medicine choices. Townsend Letter for Doctors and Patients. April 2004.
Benton D., et al. Thiamine supplementation for mood and cognitive functioning. Psychopharmacology. 129(1):66-71, 1997.

Benton, D., et al. The effects of nutrients on mood. Public Health Nutr. 2(3A):403-409, 1999.
Bhagavan, H. N., et al. The effect of pyridoxine hydrochloride on blood serotonin and pyridoxal phosphate contents in hyperactive children. Pediatrics. 55(3):437-441, 1975.
Bilbey, D.L. J., et al. Muscle cramps and magnesium deficiency: case reports. Can Fam Physician. 42:1348-51, 1996.
Bodnar L et al. Maternal vitamin D deficiency increases the risk of preeclampsia. Journal of Clinical Endocrinology and Metabolism. 92(9):3517-22, 2007.

Boyles A et al. Folate and one-carbon metabolism gene polymorphisms and their associations with oral facial clefts. American Journal of Medical Genetics. 146(4):440-9, 2008.
Brent R et al. Further efforts to reduce the incidence of neural tube defects. Pediatrics. 119(1):225-6, 2007.
Brilla, L. R., et al. Effect of magnesium supplementation on strength training in humans. J Am Coll Nutr. 11(3):326-329, 1992.
Bronstrup A, Hages M, Prinz-Langenohl R, Pietrzik K. Effects of folic acid and combinations of folic acid and vitamin B12 on plasma homocysteine concentrations in healthy young women. Am J Clin Nutr 68:1104-10, 1998.
Brown R. and Gerbarg P. Herbs and nutrients in the treatment of depression, anxiety, insomnia, migraine, and obesity. J Psychiatr Pract. 7(2):75-91, 2001.
Bryan, J., et al. Associations between dietary intake of folate and vitamins B-12 and B-6 and self-reported cognitive function and psychological well-being in Australian men and women in midlife. J Nutr Health Aging. 8(4):226-232, 2004.
Bryan, J., et al. Short-term folate, vitamin B-12 or vitamin B-6 supplementation slightly affects memory performance but not mood in women of various ages. Journal of Nutrition. 132(6):1345-1356, 2002.
Caddell JL. Magnesium deficiency promotes muscle weakness, contributing to the risk of sudden infant death (SIDS) in infants sleeping prone. Magnes Res. 14(1-2):39-50, 2001. Review.
Candito M et al. Nutritional and genetic determinants of vitamin B and homocysteine metabolisms in neural tube defects: a multicenter case-control study. American Journal of Medical Genetics. 146(9):1128-33, 2008.
Cao G, Alessio H, Cultler R. Oxygen-radical absorbance capacity assay for antioxidants. Fre Rad Biol & Med 14:301-11, 1993.
Castillo-Durán C et al. Zinc supplementation and growth of the fetus and low birth weight infant. Journal of Nutrition. 133(5 Suppl 1):1494S-7S, 2003. Review.
Centers for Disease Control and Prevention (CDC). Prevalence of neural tube defects and folic acid knowledge and consumption--Puerto Rico, 1996-2006. MMWR Morbidity and Mortality Weekly Report. 57(1):10-3, 2008.
Chappell L et al. Effect of antioxidants on the occurrence of pre-eclampsia in women at increased risk: a randomized trial. Lancet. 354(9181):810-816, 1999.
Chappell L et al. Vitamin C and E supplementation in women at risk of preeclampsia is associated with changes in indices of oxidative stress and placental function. American Journal of Obstetrics and Gynecology. 187(3):777-784, 2002.
Chollet D et al. Blood and brain magnesium in inbred mice and their correlation with sleep quality. Am J Physiol Regul Integr Comp Physiol. 279(6):R2173-8, 2000.

Coetzee E et al. A randomized controlled trial of intravenous magnesium sulphate versus placebo in the management of women with severe pre-clampsia. British Journal of Obstetrics and Gynecology. 105(3):300, 1998.
Coppen, A., et al. Plasma folate and affective morbidity during long-term lithium therapy. Br J Psychiatry. 141:87-89, 1982.
Corsonello A et al. Serum magnesium levels and cognitive impairment in hospitalized hypertensive patients. Magnes Res. 14(4):273-82, 2001.
Cummings, P. M., et al. Effect of folic acid and antioxidant vitamins on endothelial dysfunction in patients with coronary artery disease. J Am Coll Cardiol. 36:758-765, 2000.
Czeizel A et al. Dose-dependent effect of folic acid on the prevention of orofacial clefts. Pediatrics. 104(6):e66, 1999.
Czeizel A et al. Dose-dependent effect of folic acid on the prevention of orofacial clefts. Pediatrics. 104(6):e66, 1999.
Czeizel A et al. Maternal use of nutritional supplements during the first month of pregnancy and decreased risk of Down's syndrome: case-control study. Nutrition. 21(6):698-704, 2005.
Dahle, L. O., et al. The effect of oral magnesium substitution on pregnancy-induced leg cramps. Am J Obstet Gynecol. 173(1):175-180, 1995.
Demirkaya S et al. A comparative study of magnesium, flunarizine and amitriptyline in the prophylaxis of migraine. J Headache Pain. 1:179-86, 2000.
Devaraj, S., et al. Supplementation with a pine bark extract rich in polyphenols increases plasma antioxidant capacity and alters the plasma lipoprotein profile. Lipids 37:931-4, 2002.
Dharmarajan, T. S., et al. Vitamin B12 deficiency. Recognizing subtle symptoms in older adults. Geriatrics. 58(3):30-34, 2003.
Doshi, S. N., et al. Folic acid improves endothelial function in coronary artery disease via mechanisms largely independent of homocysteine lowering. Circulation. 105(1):22-26, 2002.
Drew B, Leeuwenburgh C. Aging and the role of reactive nitrogen species. Ann NY Acad Sci 959:66-81, 2002.
Duthie, S. J., et al. Homocysteine, B vitamin status, and cognitive function in the elderly. American Journal of Clinical Nutrition. 75(5):908-913, 2002.
Elisaf M, Milionis H, Siamopoulos K. Hypomagnesemic hypokalemia and hypocalcemia: Clinical and laboratory characteristics. Mineral Electrolyte Metab. 23:105-12, 1997.
Fine, AM, Oligomeric proanthocyanidin complexes: history, structure, and phytopharmaceutical applications. Altern Med Rev 5:144-51, 2000.
Fitzpatrick, D., et al. Endothelium-dependent vascular effects of Pycnogenol. Journal of Cardiovascular Pharmacology 32: 509-515, 1998.
Frankel, E., et al. Inhibition of oxidation of human low-density lipoprotein by phenolic substances in red wine. Lancet 341: 454-7, 1993.
Freedman, J., et al. Select flavonoids and whole juice from purple grapes inhibit platelet function and enhance nitric oxide release. Circulation 103:2792-8, 2001.
Frémont, L. Biological effects of resveratrol. Life Sciences 66: 663-673, 2000.
Friso, S., et al. Low plasma vitamin B-6 concentrations and modulation of coronary artery disease risk. Am J Clin Nutr. 79(6):992-998, 2004.
Gibson, L, et al. Effectiveness of cranberry juice in preventing urinary tract infections in long-term care facility patients. J Naturopathic Med 2:45-47, 1991.
Goh Y et al. Prenatal multivitamin supplementation and rates of congenital anomalies: a meta-analysis. Journal of Obstetrics and Gynecology Canada. 28(8):680-9, 2006. Review.
Goh Y et al. Prenatal supplementation with multivitamins and the incidence of pediatric cancers: clinical and methodological considerations. Pediatrics Blood and Cancer. 50(2 Suppl):487-9; discussion 498, 2008. Review.
Graham DY, Smith JL, Bouvet, AA. What happens to tablets in the stomach. J Pharm Sci 79:420-24, 1990.
TLS Product Reviews
---
Displaying reviews 1 - 5 of 22
---
Absolutely love this products.
I use this products a lot in my clinical practice. Love the taste and fast delivery system, especially the activated B, easier for absorption.
Response from Customer Service:
01/14/2022
Dear Valued Customer,

Thank you for taking the time to share your thoughts on the Isotonix Essentials® Women's Health! We are happy to hear you are pleased with the product!

Thank you again!
The Product Information Team
---
Excellent product. Works fast and noticeable results. Very pleased with this purchase.
Response from Customer Service:
10/14/2020
Dear Valued Customer,

Thank you for taking the time to share your thoughts on the Isotonix Essentials Women's Health! We are happy to hear you are pleased with the product.

Thank you again!
The Product Information Team
---
I was taking the prducts separately
this product is great because its everything I need all wrapped up into one.
Love it !
Response from Customer Service:
09/17/2020
Dear Valued Customer,

Thank you for taking the time to share your thoughts on the Isotonix Essentials® Women's Health! We are happy to hear you are pleased with the product.

Thank you again!
The Product Information Team
---
I am a fan of this product. Easy to take and I can feel the added energy as I go through the day! I do have one question:
I also take Isotonix Essentials Anti-Aging (also a fan of it!) and I alternate daily between these two... Can I take both on the same day? A few of the ingredients are contained in both, so I would appreciate your guidance. Thank you!
Response from Customer Service:
09/09/2020
Dear Valued Customer,

Thank you for taking the time to share your thoughts on the Isotonix Essentials Women's Health! We are happy to hear you are pleased with the product. You can take this product in the same day as the Isotonix Essentials Anti-Aging. We recommend taking these products at separate times of the day for maximum absorption.

Thank you again!
The Product Information Team
---
Great formulation for women! Has in it everything I need. Convenient and easy to use and tastes good too. In fact, I'm drinking mine right now!
Response from Customer Service:
07/27/2020
Dear Valued Customer,

Thank you for taking the time to share your thoughts on the Isotonix Essentials Women's Health! We are happy to hear you are pleased with the product.

Thank you again!
The Product Information Team