Isotonix Essentials® Women's Health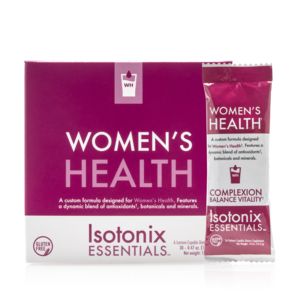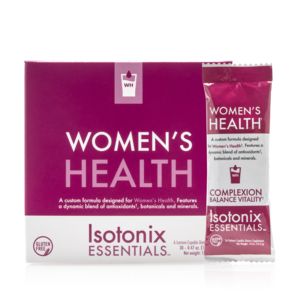 $79.95
$79.95
$1.60
Single Box (30 Packets)
SKU: 6701
FEATURED RECOMMENDATIONS
Benefits
---
Supports a healthy complexion
Promotes healthy functioning of the skin at a cellular level, which results in health, vibrant-looking skin
Helps maintain normal cell health
Helps maintain healthy collagen production
Provides antioxidant protection for the entire body
Protects the body from free radicals
Helps support health bones, teeth, joints and skin
Helps maintain normal muscle and nerve function
Supports a healthy immune system
Supports cardiovascular health
Promotes cognitive health
Product Classifications
---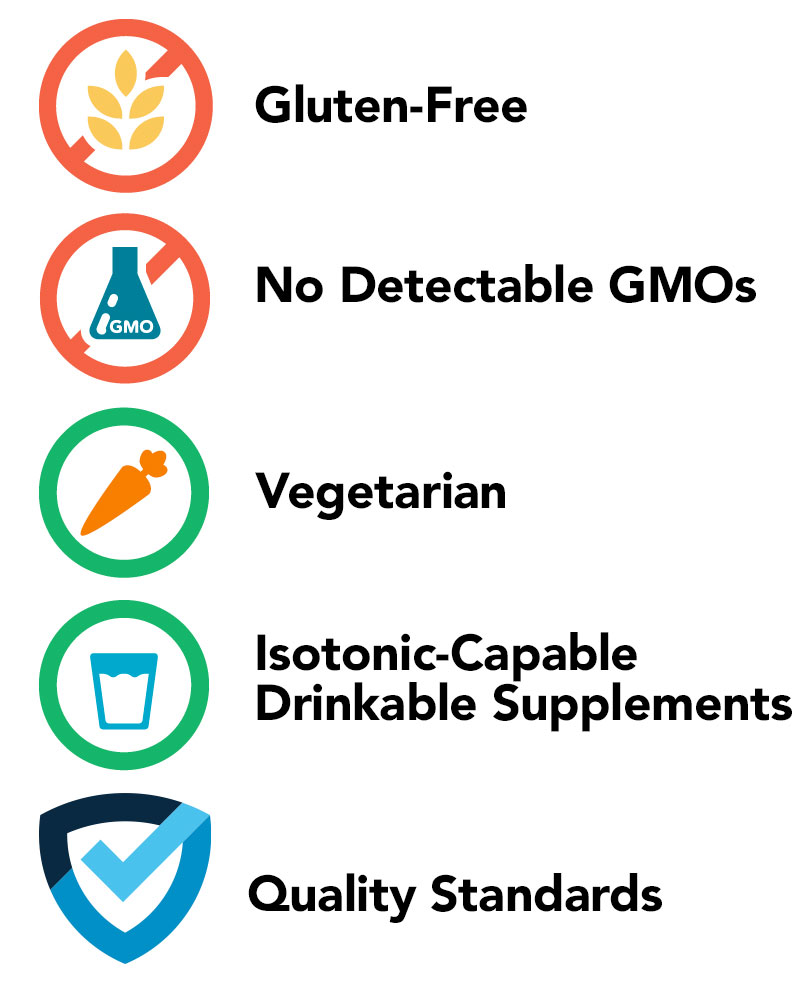 Gluten-Free - The finished product contains no detectable gluten (<10ppm gluten)
No Detectable GMOs - The finished product contains no detectable genetically-modified organisms
Vegetarian - This product is vegetarian
Isotonic-Capable Drinkable Supplements - Easy-to-swallow supplements in liquid form are immediately available to the body for absorption
Quality Standards - GMP Operations and Standardized Ingredients
Checked For: Heavy Metals, Microbiological Contaminants, Allergens, Residual Solvents, Potency, Purity and Identity
Description
---
As jetsetters and go-getters, women are constantly on the move. There's a lot to think about all the time, so maintaining a healthy lifestyle can get pushed to the back burner. However, your health should take precedence. Cardiovascular health, skin and bone health are extremely important concerns. Want to take charge of your wellness, but need something to keep up with the super woman lifestyle you're leading?*

Look and feel vibrant with Isotonix Essentials® Women's Health custom blend formula. More than a multivitamin, Women's Health supports a healthy complexion, helps support healthy bones, teeth, joints and skin, and provides antioxidant protection for your entire body. Women will benefit from receiving the foundation of nutrients that deliver vibrancy, while supporting cardiovascular and cognitive health and helping to maintain healthy collagen production.*

So while you're managing life like a champ, let Women's Health be there to back you up!*
Directions For Use
---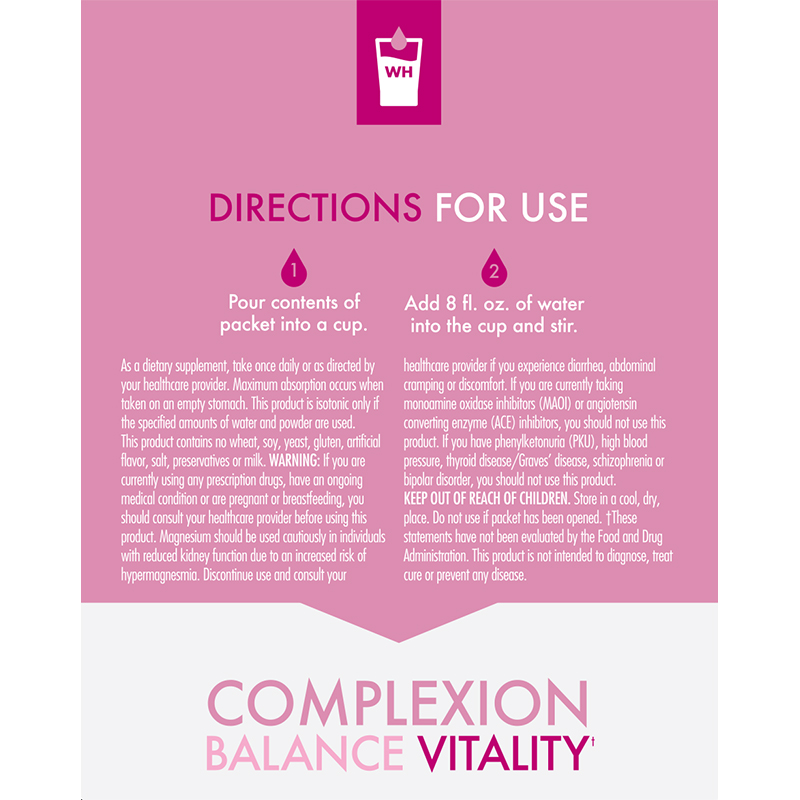 1. Pour contents of packet into a cup.
2. Add 8 fl. oz. of water into the cup and stir.
As a dietary supplement, take once daily or as directed by your healthcare provider. Maximum absorption occurs when taken on an empty stomach. This product is isotonic only if the specified amounts of water and powder are used.
FAQs
---
What does Isotonix® mean?
Isotonix® dietary supplements are delivered in an isotonic liquid solution. This means that the body has less work to do in obtaining maximum absorption. The isotonic state of the suspension allows nutrients to pass efficiently into the small intestine and be rapidly delivered into the bloodstream. With Isotonix® products, little nutritive value is lost, making the absorption of nutrients highly efficient while delivering maximum results.*
Who should use Isotonix Essentials® Women's Health?
Females 18 years of age and older who want to support healthy skin and body, specific to women's needs.*
How do I take Isotonix Essentials® Women's Health?
Pour contents of packet into a cup. Add 8 fl. oz of water into the cup and stir.

How often should I use Isotonix Essentials® Women's Health?
As a dietary supplement, take once daily or as directed by your healthcare provider.
What ingredients make this supplement beneficial to women?
Magnesium (Glycinate) makes Women's Health bioavailable and supports cognitive health*
Nutrients in Women's Health help support collagen production, strong hair and nails*
How is Isotonix Essentials® Women's Health different from other similar supplement products on the market?
Many women's health supplements focus on botanicals or herbs that have a complex mechanism of action. More than many other products on the market, Isotonix Essentials® Women's Health meets a diversity of female needs.*
Are there any contraindications or warnings for this product?
If you are currently using any prescription medication, have an ongoing medical condition or are pregnant or breastfeeding, you should consult your healthcare provider before using this product. Magnesium should be used cautiously in individuals with reduced kidney function due to an increased risk of hypermagnesemia. Discontinue use and consult your healthcare provider if you experience diarrhea, abdominal cramping or discomfort.


*These statements have not been evaluated by the Food and Drug Administration. This product(s) is not intended to diagnose, treat, cure or prevent any disease.
Ingredients
---
Calcium (Lactate, Sulfate): 557 mg
Calcium is found in milk, cheese, yogurt, corn tortillas, napa (Chinese cabbage), kale and broccoli. Calcium is an essential mineral with a wide range of biological roles. Calcium exists in bone, primarily in the form of hydroxyapatite (Ca10 (PO4)6 (OH)2). Hydroxyapatite comprises approximately 40 percent of the weight of bone. The skeleton has an obvious structural requisite for calcium. The skeleton also acts as a storehouse for calcium. Apart from being a major constituent of bones and teeth, calcium supports normal muscle contraction and nerve conduction, supports normal heartbeat, blood coagulation and glandular secretion, promotes the production of energy and helps maintain normal immune function.*

Calcium is essential for healthy bones and teeth. A sufficient daily calcium intake is necessary for maintaining bone density. Calcium has been shown to reduce symptoms of PMS in women.* Calcium also may play a role in promoting cardiovascular health.

Magnesium (Citrate, Glycinate, Carbonate): 450 mg
A women's body has unique needs based on her age, weight and physical fitness. While some women experience the effects of premenstrual syndrome, others need help as it relates to menopause, while every woman could use more energy. Isotonix Essentials™ Women's Health offers magnesium in a glycinate form, which helps support cognitive health.*
Magnesium is a component of the mineralized part of bone and supports the normal metabolism of potassium and calcium in adults. It helps maintain normal levels of potassium, phosphorus, calcium, adrenaline and insulin. It also promotes the normal mobilization of calcium, transporting it inside the cell for further utilization. It supports normal muscle function and nerve tissue. Magnesium promotes the normal synthesis of proteins, nucleic acids, nucleotides, cyclic adenosine monophosphate, lipids and carbohydrates.*

Magnesium works together with calcium to help maintain normal blood pressure. Importantly, magnesium also supports the body's ability to build healthy bones and teeth, and promotes proper muscle development. It works together with calcium and vitamin D to help keep bones strong. Magnesium also promotes cardiovascular health by supporting normal platelet activity and helping to maintain normal cholesterol levels.*

Magnesium supports the normal release of energy from food during metabolism, regulation of body temperature and proper nerve function. Importantly, magnesium also promotes healthy bones, teeth and normal muscle development. It works together with calcium and vitamin D to promote strong bones. *
Foods rich in magnesium include unpolished grains, nuts and green vegetables. Green, leafy vegetables are potent sources of magnesium because of their chlorophyll content. Meats, starches, milk, refined and processed foods contain low amounts of magnesium. Recent research shows that many American diets are magnesium deficient.*

Potassium (Bicarbonate): 320 mg
Potassium is an electrolyte stored in the muscles. Foods rich in potassium include bananas, oranges, cantaloupe, avocado, raw spinach, cabbage and celery. Potassium is an essential macromineral that helps maintain fluid balance in the body. It also supports a wide variety of biochemical and physiological processes. Among other things, potassium promotes the transmission of nerve impulses, the contraction of cardiac, skeletal and smooth muscle, the production of energy, the synthesis of nucleic acids and the maintenance of normal blood pressure.*


In 1928, it was first suggested that high potassium intake could help maintain cardiovascular health. Potassium promotes normal muscle relaxation and helps maintain normal insulin release. It also promotes glycogen and protein synthesis. Potassium is an electrolyte that promotes normal heartbeat. Potassium promotes the normal release of energy from protein, fat and carbohydrates during metabolism. Potassium helps maintain normal water balance, supports recovery from exercise and the elimination of wastes. Sodium and potassium are two of the most important ions in maintaining the homeostatic equilibrium of the body fluids.*


Vitamin C (Ascorbic Acid): 109 mg
Vitamin C, also known as ascorbic acid, is a water-soluble vitamin that has a number of biological functions. Vitamin C is found in peppers (sweet, green, red, hot red and green chili), citrus fruits and brussel sprouts, cauliflower, cabbage, kale, collards, mustard greens, broccoli, spinach, guava, kiwi fruit, currants and strawberries. Nuts and grains contain small amounts of vitamin C. It is important to note that cooking destroys vitamin C activity.
Vitamin C supports normal tissue repair, healing and dopamine production. Vitamin C is integral in supporting a healthy immune system, promoting cardiovascular health, helping to maintain healthy cholesterol levels and providing an antioxidant defense. The body does not manufacture vitamin C on its own, nor does it store it. Therefore, Vitamin C must be acquired through diet and supplementation.*


Vitamin E Acetate (d-Alpha-Tocopheryl-Acetate): 53 mg
The most valuable sources of dietary vitamin E include vegetable oils, margarine, nuts, seeds, avocados and wheat germ. Safflower oil contains large amounts of vitamin E (about two thirds of the RDA in ¼ cup), and smaller amounts are found in corn oil and soybean oil. Vitamin E is actually a family of related compounds called tocopherols and tocotrienols.

Vitamin E was discovered in the early 1930s. It is available in a natural or synthetic form. In most cases, the natural and synthetic form of vitamins and minerals are identical. However, the natural form of Vitamin E is superior, in terms of absorption and retention in the body.
The natural form of alpha-tocopherol, known as d-alpha tocopherol, is contained in Isotonix Essentials® Women's Blend. The synthetic form is the most common form found in dietary supplements. It is in the consumer's best interest to choose a product that contains the superior (and more expensive) natural form. For those individuals watching their dietary fat consumption, which is relatively common in the world of dieting, vitamin E intake is likely to be low, due to a reduced intake of foods with a higher fat content.*
The health benefits of supplemental vitamin E are derived from its support of immune health and antioxidant activity. Vitamin E protects cell membranes from free radicals. It is also helpful in promoting normal healing and is known to help maintain a healthy cardiovascular system. Vitamin E is one of the most powerful fat-soluble antioxidants in the body. High servings of vitamin E have been shown to promote normal platelet activity.*


Niacinamide (Vitamin B3): 30 mg NE
Niacin supports the proper functioning of the digestive system, skin and nerves. It works with vitamins B1 and B2 to promote the conversion of food to energy. Niacin is found in dairy products, poultry, fish, lean meats, nuts, eggs, legumes, and enriched breads and cereals.*


D-Calcium Pantothenate (Vitamin B5): 25 mg
Pantothenic acid (B5) promotes proper neurotransmitter activity in the brain. Pantothenic acid is also known as the anti-stress vitamin, and supports the normal secretion of hormones essential for optimal health.*


Pine Bark Extract (Pycnogenol®): 20 mg
Pycnogenol® is a natural plant extract from the bark of the maritime pine tree, which grows exclusively along the coast of southwest France in Les Landes de Gascogne. This unspoiled and natural forest environment is the unique source of pine bark. Pycnogenol® is one of the most researched ingredients in the natural product marketplace. Published findings have demonstrated Pycnogenol's® wide array of beneficial effects on the body. Pine bark extract is a combination of procyanidins, bioflavonoids and organic acids.
The extract has three basic properties — it is a powerful antioxidant, selectively binds to collagen and elastin, and promotes the normal production of endothelial nitric oxide, which promotes the normal dilation of blood vessels.*
As one of the most powerful scavengers of free radicals, Pycnogenol® combats many free radicals. It helps support healthy blood platelet activity, helps maintain healthy blood glucose levels, reduces mild menstrual cramping and abdominal pain, helps maintain joint flexibility, promotes cardiovascular health, promotes healthy sperm quality, helps maintain healthy cholesterol levels and supports a healthy complexion.*
Pycnogenol® is the registered trademark of Horphag Research, Ltd., and is protected by U.S. patent numbers 4,698,360; 5,720,956; and 6,372,266.
Grape Seed Extract: 12.5 mg
Grape seed extract is typically extracted from the seeds of red grapes (instead of white), which have a high content of compounds known as oligomeric proanthocyanidins (OPCs). Grape seed extract is extremely rich in polyphenols, compounds with high antioxidant activity. Grape seed extract has been found to help maintain healthy cholesterol levels.*
Red Wine Extract: 12.5 mg
Red wine extract is a powerful antioxidant. It is found in grape vines, roots, seeds and stalks, with the highest concentration in the skins. The antioxidant properties of red wine extract contribute to maintaining healthy circulation by strengthening capillaries, arteries and veins, and promoting overall cardiovascular health.*
In the late 1990s, scientists took note of a phenomenon among the French. There were very low rates of cardiovascular problems in the provinces where residents consistently ate high fat foods and drank red wine. Scientists concluded that the protective properties of red wine have helped the French maintain cardiovascular health for years and subsequent scientific studies have further shown that the OPCs found in red wine are particularly beneficial for protecting the heart and blood vessels.*
Bilberry Extract: 12.5 mg
Bilberry extract is derived from the leaves and berry-like fruit of a common European shrub closely related to the blueberry. Extracts of the ripe berry are known to contain flavonoid pigments known as anthocyanins, which are powerful antioxidants. Scientific studies confirm that bilberry extract supports healthy vision and venous circulation. Bilberry extract helps maintain healthy circulation by strengthening capillaries, arteries and veins.*
Citrus Extract (Bioflavonoids): 12.5 mg
Bioflavonoids are antioxidants found in certain plants that act as light filters, which protect delicate DNA chains and other important macromolecules by absorbing ultraviolet radiation. They have been found to promote cardiovascular health, help maintain healthy circulation by strengthening capillaries, arteries and veins, and demonstrate anti-inflammatory activity.*
Iron (Pyrophosphate, SunActive® Fe): 10 mg
Iron is mainly found in citrus fruits, tomatoes, beans, peas, fortified bread and grain products such as cereal (non-heme iron sources). Beef, liver, organ meats and poultry comprise the heme iron sources. The heme iron sources are more absorbable than the non-heme type of iron. Iron is an essential mineral. It is a component of hemoglobin, the protein that carries oxygen in the blood, and myoglobin, another protein that carries oxygen in muscle tissue. Iron promotes normal red blood cell formation.*
Iron supports many imperative biochemical pathways and enzyme systems including those involved with energy metabolism, neurotransmitter production (serotonin and dopamine), collagen formation and immune system function. Young children, adult men and elderly women are less likely to require supplemental iron in their diets and should consult their physician before taking iron supplements (due to the risk of excessive iron). Iron has been found to promote normal oxygen transport, thus improving exercise capacity, stimulate the immune system, increase energy levels and promote normal production of neurotransmitters and collagen.*
SunActive Fe® is a registered trademark of Taiyo International, Inc.

Vitamin B6 (Pyrodoxine HCl, Pyridoxal-5-Phosphate): 8 mg
Poultry, fish, whole grains and bananas are the main dietary sources of vitamin B6. B6 supports normal protein and amino acid metabolism, and helps maintain proper fluid balance. It also assists in the maintenance of healthy red and white blood cells, which is important for overall health. Vitamin B6 promotes normal hemoglobin synthesis (hemoglobin is the protein portion of red blood cells which carries oxygen throughout the body). Because vitamin B6 is involved in the synthesis of neurotransmitters in the brain and nerve cells, it has been recommended as a nutrient to support mental function, specifically mood. Athletic supplements often include vitamin B6 because it promotes the conversion of glycogen to glucose for energy in muscle tissue. Vitamin B6, when taken with folic acid, has been shown to help maintain normal plasma levels of homocysteine, which promotes optimal cardiovascular health. Vitamin B6 should be taken as a part of a complex of other B vitamins for best results.*
Hyaluronic Acid (Sodium Hyaluronate): 7.5 mg
Hyaluronic acid or hyaluronate is a glycosaminoglycan distributed widely throughout connective, epithelial and neural tissues, and is commonly used in skin care products. It is one of the main constituents of the extracellular matrix and it promotes healthy cell proliferation and migration. Plentiful in extracellular matrices, hyaluronic acid supports healthy tissue hydrodynamics, movement and production of cells, and promotes a number of cell surface receptor interactions. Because hylauronic acid is found mostly in the skin and cartilage, it supports joint health. It has also been suggested that hyaluronic acid promotes healthy cartilage cells.*
Hyaluronic acid may also support normal healing.*
Riboflavin (Vitamin B2): 4.5 mg
Vitamin B2 is a water-soluble vitamin that promotes the normal processing of amino acids and fats, activation of vitamin B6 and folic acid, and supports the conversion of carbohydrates into the fuel the body runs on, adenosine triphosphate (ATP). It also promotes healthy red blood cell formation, supports the nervous system, respiration, antibody production and normal human growth.*
Thiamin HCl (Vitamin B1): 3.5 mg
Thiamin promotes normal carbohydrate metabolism and nerve function. Thiamin is required for a healthy nervous system, and supports the production of certain neurotransmitters which have an important role in muscle function. It supports the digestive process, increases energy and helps promote mental clarity.*

Zinc (Lactate): 3.75 mg
Zinc is an essential mineral that is a component of more than 300 enzymes that support normal healing, fertility in adults and growth in children, protein synthesis, cell reproduction, vision, immune function, and protection against free radicals, among other functions.*


Folate [as (6S)-5-methyltetrahydrofolic acid, glucosamine salt, Quatrefolic®]: 837 mcg
Folic acid is mainly found in fruits and vegetables. Dark, leafy greens, oranges, orange juice, beans, peas and Brewer's yeast are the best sources. Folic acid plays a key role by boosting the benefits of B12 supplementation. These two B vitamins join forces and work together to help maintain normal red blood cells. Folic acid assists in the normal utilization of amino acids and proteins, as well as supporting the construction of the material for DNA and RNA synthesis, which is necessary for all bodily functions. Scientific studies have found that when working in tandem with folic acid, B12 is capable of promoting normal homocysteine levels. This works toward supporting a healthy cardiovascular and nervous system.*

Folic acid (folate) must go through a series of chemical conversions before it becomes metabolically active to be properly utilized. Folinic acid is the highly bioavailable, metabolically active derivative of folic acid. It does not require the action of the enzyme dihydrofolinate reductase to become active, so it's not affected by substances and herbs that inhibit this enzyme. Some people have a genetic variation (in the MTHRF gene) that reduces the amount of activated folic acid in the body. Folinic acid, unlike folic acid, is not negatively impacted by this genetic variation.*

Quatrefolic® is the glucosamine salt of (6S)-5-methyltetrahydrofolate, the most active form of folate, as it is structurally analogous to the reduced and active form of folic acid. Because this form is naturally present in the body, it is much more bioavailable for its biological action without having to be metabolized in the body.*

Quatrefolic® is the registered trademark of Gnosis S.p.A. and is protected by U.S. Patent No. 7,947,662.


Vitamin A (20% beta-carotene): 600 mcg RAE
Vitamin A is a fat-soluble vitamin. Sources of vitamin A include organ meats (such as liver and kidney), egg yolks, butter, carrot juice, squash, sweet potatoes, spinach, peaches, fortified dairy products and cod liver oil. Vitamin A is also part of a family of compounds including retinol, retinal and beta-carotene. Beta-carotene, also known as pro-vitamin A, can be converted into vitamin A when additional levels are required. All of the body's tissues need Vitamin A to support normal growth and repair. Vitamin A helps to promote healthy vision and normal bone growth and supports an antioxidant defense and a healthy immune system.*

Taking beta-carotene by mouth along with vitamin C, vitamin E, and zinc daily, seems to support eye health. *
Biotin: 525 mcg
Biotin is a part of the B-vitamin family. The B-vitamins are important co-factors, which promote the normal metabolism of fats, carbohydrates and protein. Natural food sources of biotin include egg yolk, peanuts, beef liver, milk (10 mcg/cup), cereals, almonds and Brewer's yeast. Biotin operates as an important part of several enzymes, acting as a co-enzyme implicated in energy metabolism (such as pyruvate carboxylase). In the intestines, bacteria makes a negligible amount of biotin that may be assimilated and used by the body. The main roles of Biotin include promoting strong hair and nails, increasing energy levels, helping maintain normal cholesterol levels and helping to maintain healthy blood sugar levels.*


Cyanocobalamin (Vitamin B12): 126 mcg
Vitamin B12 (cobalamin) is a bacterial product naturally found in animal products, especially organ meats, such as liver, with small amounts derived from peanuts and fermented soy products, such as miso and tempeh. It is essential that vegetarians consume a vitamin B12 supplement to maintain optimal health. Vitamin B12, when ingested, is stored in the liver and other tissues for later use. It supports the normal maintenance of cells, especially those of the nervous system, bone marrow and intestinal tract. Vitamin B12 supports normal homocysteine metabolism (homocysteine is an amino acid that is formed within the body). Normal homocysteine levels are important for maintaining cardiovascular health. Deficiencies of the vitamins folic acid, pyridoxine (B6) or cobalamin (B12) can result in elevated levels of homocysteine. Folate and B12, in their active coenzyme form help to maintain healthy blood levels of homocysteine.*


Iodine (Potassium Iodide): 75 mcg
Iodine is found in most seafood and in iodized salt. The trace element supports more than a hundred enzyme systems such as energy production, nerve function and hair and skin growth. One of iodine's main functions includes supporting the thyroid gland in producing thyroid hormones thyroxin and tri-iodothyronine, which help regulate and maintain a properly functioning metabolism.*
Vitamin D3 (Cholecalciferol): 25 mcg (1000 IU)
Regular sunlight exposure is the main way that most humans obtain vitamin D. Food sources of vitamin D include vitamin D-fortified milk (100 IU per cup), cod liver oil, fatty fish (such as salmon) and small amounts are found in egg yolks and liver.*
Vitamin D promotes the absorption of calcium and phosphorus and supports the production of several proteins involved in calcium absorption and storage. Vitamin D works with calcium to promote bone strength. It promotes the normal transport of calcium out of the osteoblasts into the extra-cellular fluid and in the kidneys. It promotes calcium and phosphate re-uptake by renal tubules. Vitamin D also promotes the absorption of dietary calcium and phosphate uptake by the intestinal epithelium. It supports the normal growth of skin cells.*
*These statements have not been evaluated by the Food and Drug Administration. This product(s) is not intended to diagnose, treat, cure or prevent any disease.
Science
---
Altura B et al. Magnesium deficiency-induced spasms of umbilical vessels: relation to preeclampsia, hypertension, growth retardation. Science. 221(4608):376-8, 1983.
Altura BM and Altura BT. Magnesium and cardiovascular biology: An important link between cardiovascular risk factors and atherogenesis. Cell Mol Biol Res. 41:347-59, 1995.
Ames, BN, et al. Oxidants, antioxidants, and the degenerative diseases of aging. Proc Natl Acad Sci USA 90:7915-7922, 1993.
Appel LJ. Nonpharmacologic therapies that reduce blood pressure: A fresh perspective. Clin Cardiol. 22:1111-5, 1999.
Bagchi, D, et al. Cellular protection with proanthocyanidins derived from grape seed. Ann NY Acad Sci 957:260-70, 2002.
Bagchi, D, et al. Free radicals and grape seed proanthocyanidin extract: importance in human health and disease prevention. Toxicology 148: 187-97, 2000.
Bagchi, D, et al. Oxygen free radical scavenging abilities of vitamins C and E, and a grape seed proanthocyanidin extract in vitro. Res Commun Mol Pathol Pharmacol 95:179-89, 1997.
Barker J. Insomnia options; natural medicine choices. Townsend Letter for Doctors and Patients. April 2004.
Bayeta, E., et al. Pycnogenol inhibits generation of inflammatory mediators in macrophages. Nutrition Research 20: 249-259, 2000.
Benton D., et al. Thiamine supplementation for mood and cognitive functioning. Psychopharmacology. 129(1):66-71, 1997.
Benton, D., et al. The effects of nutrients on mood. Public Health Nutr. 2(3A):403-409, 1999.
Bhagavan, H. N., et al. The effect of pyridoxine hydrochloride on blood serotonin and pyridoxal phosphate contents in hyperactive children. Pediatrics. 55(3):437-441, 1975.
Bilbey, D.L. J., et al. Muscle cramps and magnesium deficiency: case reports. Can Fam Physician. 42:1348-51, 1996.
Blazsó, G., et al. Anti-inflammatory and superoxide radical scavenging activities of a procyanidins containing extract from the bark of Pinus pinaster Sol. and its fractions. Pharm Pharmacol Lett 3: 217-20, 1994.
Bodnar L et al. Maternal vitamin D deficiency increases the risk of preeclampsia. Journal of Clinical Endocrinology and Metabolism. 92(9):3517-22, 2007.
Boyles A et al. Folate and one-carbon metabolism gene polymorphisms and their associations with oral facial clefts. American Journal of Medical Genetics. 146(4):440-9, 2008.
Brent R et al. Further efforts to reduce the incidence of neural tube defects. Pediatrics. 119(1):225-6, 2007.
Brilla, L. R., et al. Effect of magnesium supplementation on strength training in humans. J Am Coll Nutr. 11(3):326-329, 1992.
Bronstrup A, Hages M, Prinz-Langenohl R, Pietrzik K. Effects of folic acid and combinations of folic acid and vitamin B12 on plasma homocysteine concentrations in healthy young women. Am J Clin Nutr 68:1104-10, 1998.
Brown R. and Gerbarg P. Herbs and nutrients in the treatment of depression, anxiety, insomnia, migraine, and obesity. J Psychiatr Pract. 7(2):75-91, 2001.
Bryan, J., et al. Associations between dietary intake of folate and vitamins B-12 and B-6 and self-reported cognitive function and psychological well-being in Australian men and women in midlife. J Nutr Health Aging. 8(4):226-232, 2004.
Bryan, J., et al. Short-term folate, vitamin B-12 or vitamin B-6 supplementation slightly affects memory performance but not mood in women of various ages. Journal of Nutrition. 132(6):1345-1356, 2002.
Caddell JL. Magnesium deficiency promotes muscle weakness, contributing to the risk of sudden infant death (SIDS) in infants sleeping prone. Magnes Res. 14(1-2):39-50, 2001. Review.
Candito M et al. Nutritional and genetic determinants of vitamin B and homocysteine metabolisms in neural tube defects: a multicenter case-control study. American Journal of Medical Genetics. 146(9):1128-33, 2008.
Cao G, Alessio H, Cultler R. Oxygen-radical absorbance capacity assay for antioxidants. Fre Rad Biol & Med 14:301-11, 1993.
Castillo-Durán C et al. Zinc supplementation and growth of the fetus and low birth weight infant. Journal of Nutrition. 133(5 Suppl 1):1494S-7S, 2003. Review.
Centers for Disease Control and Prevention (CDC). Prevalence of neural tube defects and folic acid knowledge and consumption--Puerto Rico, 1996-2006. MMWR Morbidity and Mortality Weekly Report. 57(1):10-3, 2008.
Chappell L et al. Effect of antioxidants on the occurrence of pre-eclampsia in women at increased risk: a randomized trial. Lancet. 354(9181):810-816, 1999.
Chappell L et al. Vitamin C and E supplementation in women at risk of preeclampsia is associated with changes in indices of oxidative stress and placental function. American Journal of Obstetrics and Gynecology. 187(3):777-784, 2002.
Cho, K., et al. Effect of bioflavonoids extracted from the bark of Pinus maritima on proinflammatory cytokine interlukin-1 production in lipopolysaccharide-stimulated RAW 264. 7. Toxicology and Applied Pharmacology 168: 64-71, 2000.
Cho, K., et al. Inhibition mechanisms of bioflavonoids extracted from the bark of Pinus maritima on the expression of proinflammatory cytokines. Annals of the NY Academy of Sciences 928: 141-156, 2001.
Chollet D et al. Blood and brain magnesium in inbred mice and their correlation with sleep quality. Am J Physiol Regul Integr Comp Physiol. 279(6):R2173-8, 2000.
Coetzee E et al. A randomized controlled trial of intravenous magnesium sulphate versus placebo in the management of women with severe pre-clampsia. British Journal of Obstetrics and Gynecology. 105(3):300, 1998.
Coppen, A., et al. Plasma folate and affective morbidity during long-term lithium therapy. Br J Psychiatry. 141:87-89, 1982.
Corsonello A et al. Serum magnesium levels and cognitive impairment in hospitalized hypertensive patients. Magnes Res. 14(4):273-82, 2001.
Cummings, P. M., et al. Effect of folic acid and antioxidant vitamins on endothelial dysfunction in patients with coronary artery disease. J Am Coll Cardiol. 36:758-765, 2000.
Czeizel A et al. Dose-dependent effect of folic acid on the prevention of orofacial clefts. Pediatrics. 104(6):e66, 1999.
Czeizel A et al. Dose-dependent effect of folic acid on the prevention of orofacial clefts. Pediatrics. 104(6):e66, 1999.
Czeizel A et al. Maternal use of nutritional supplements during the first month of pregnancy and decreased risk of Down's syndrome: case-control study. Nutrition. 21(6):698-704, 2005.
Dahle, L. O., et al. The effect of oral magnesium substitution on pregnancy-induced leg cramps. Am J Obstet Gynecol. 173(1):175-180, 1995.
Demirkaya S et al. A comparative study of magnesium, flunarizine and amitriptyline in the prophylaxis of migraine. J Headache Pain. 1:179-86, 2000.
Devaraj, S., et al. Supplementation with a pine bark extract rich in polyphenols increases plasma antioxidant capacity and alters the plasma lipoprotein profile. Lipids 37:931-4, 2002.
Dharmarajan, T. S., et al. Vitamin B12 deficiency. Recognizing subtle symptoms in older adults. Geriatrics. 58(3):30-34, 2003.
Doshi, S. N., et al. Folic acid improves endothelial function in coronary artery disease via mechanisms largely independent of homocysteine lowering. Circulation. 105(1):22-26, 2002.
Drew B, Leeuwenburgh C. Aging and the role of reactive nitrogen species. Ann NY Acad Sci 959:66-81, 2002.
Duthie, S. J., et al. Homocysteine, B vitamin status, and cognitive function in the elderly. American Journal of Clinical Nutrition. 75(5):908-913, 2002.
Elisaf M, Milionis H, Siamopoulos K. Hypomagnesemic hypokalemia and hypocalcemia: Clinical and laboratory characteristics. Mineral Electrolyte Metab. 23:105-12, 1997.
Fine, AM, Oligomeric proanthocyanidin complexes: history, structure, and phytopharmaceutical applications. Altern Med Rev 5:144-51, 2000.
Fitzpatrick, D., et al. Endothelium-dependent vascular effects of Pycnogenol. Journal of Cardiovascular Pharmacology 32: 509-515, 1998.
Frankel, E., et al. Inhibition of oxidation of human low-density lipoprotein by phenolic substances in red wine. Lancet 341: 454-7, 1993.
Freedman, J., et al. Select flavonoids and whole juice from purple grapes inhibit platelet function and enhance nitric oxide release. Circulation 103:2792-8, 2001.
Frémont, L. Biological effects of resveratrol. Life Sciences 66: 663-673, 2000.
Friso, S., et al. Low plasma vitamin B-6 concentrations and modulation of coronary artery disease risk. Am J Clin Nutr. 79(6):992-998, 2004.
Gibson, L, et al. Effectiveness of cranberry juice in preventing urinary tract infections in long-term care facility patients. J Naturopathic Med 2:45-47, 1991.
Goh Y et al. Prenatal multivitamin supplementation and rates of congenital anomalies: a meta-analysis. Journal of Obstetrics and Gynecology Canada. 28(8):680-9, 2006. Review.
Goh Y et al. Prenatal supplementation with multivitamins and the incidence of pediatric cancers: clinical and methodological considerations. Pediatrics Blood and Cancer. 50(2 Suppl):487-9; discussion 498, 2008. Review.
Graham DY, Smith JL, Bouvet, AA. What happens to tablets in the stomach. J Pharm Sci 79:420-24, 1990.
Grant W et al. Benefits and requirements of vitamin D for optimal health: a review. Alternative Medicine Review. 10(2):94-111, 2005.
Grant, J. E., et al. Analysis of dietary intake and selected nutrient concentrations in patients with chronic fatigue syndrome. J Am Diet Assoc. 96(4):383-386, 1996.
Gruber H et al. Magnesium deficiency: effect on bone mineral density in the mouse appendicular skeleton. BMC Musculoskelet Disord. 4(1):7, 2003.
Gulati, O. Pycnogenol ® in venous disorders: a review. European Bulletin of Drug Research 7: 1-13, 1999.
Gupta P et al. Multimicronutrient supplementation for undernourished pregnant women and the birth size of their offspring: a double-blind, randomized, placebo-controlled trial. Archives of Pediatric and Adolescent Medicine. 161(1):58-64, 2007.
Guran T et al. Cognitive and psychosocial development in children with familial hypomagnesaemia. Magnes Res. 24(1):7-12, 2011.
Halpern, MJ, et al. Red wine polyphenols and inhibition of platelet aggregation: possible mechanisms, and potential use in health promotion and disease prevention. J Int Med Res 26:171-80, 1998.
Hartvig, P., et al. Pyridoxine effect on synthesis rate of serotonin in the monkey brain measured with position emission tomography. Neural Trans. 102:91-97, 1995.
Havsteen B. Flavonoids, a class of natural products of high pharmacological potency. Biochem Pharm 32:1141-48, 1983.
Heap, L. C., et al. Vitamin B status in patients with chronic fatigue syndrome. J R Soc Med. 92(4):183-185, 1999.
Hernandez-Diaz S et al. Risk of gestational hypertension in relation to folic acid supplementation during pregnancy. American Journal of Epidemiology. 156(9):806-812, 2002.
Heseker, H., et al. Psychological disorders as early symptoms of a mild-to-moderate vitamin deficiency. Ann N Y Acad Sci. 669:352-357, 1992.
Hofmeyr G et al. Calcium supplementation to prevent pre-eclampsia--a systematic review. South African Medical Journal. 93(3):224-228, 2003.
Hollis B. Vitamin D requirement during pregnancy and lactation. Journal of Bone and Mineral Research. 22 Suppl 2:V39-44, 2007. Review.
Hornyak M et al. Magnesium therapy for periodic leg movements-related insomnia and restless legs syndrome: an open pilot study. Sleep. 21:501-5, 1998.
Hosseini, S., et al. Pycnogenol ® in the management of asthma. Journal of Medicinal Food 4: 201-209, 2001.
Houston M. The role of magnesium in hypertension and cardiovascular disease. J Clin Hypertens (Greenwich). 13(11):843-7, 2011. Review.
Huerta MG, Roemmich JN, Kington ML, et al. Magnesium deficiency is associated with insulin resistance in obese children. Diabetes Care. 28:1175-81, 2005.
Huskisson E et al. The influence of micronutrients on cognitive function and performance. J Int Med Res. 35(1):1-19, 2007. Review.
Hypponen E. Vitamin D for the prevention of preeclampsia? A hypothesis. Nutrition Reviews. 63(7):225-232, 2005.
Inna Slutsky et al. Enhancement of Learning and Memory by Elevating Brain Magnesium. Neuron. 65(2):165-77, 2010.
Institute of Medicine. Food and Nutrition Board. Dietary Reference Intakes: Calcium, Phosphorus, Magnesium, Vitamin D and Fluoride. National Academy Press. Washington, DC, 1999.
Jacobson, W., et al. Serum folate and chronic fatigue syndrome. Neurology. 43:2645-2647, 1993.
Jee SH et al. The effect of magnesium supplementation on blood pressure: a meta-analysis of randomized clinical trials. Am J Hypertens. 15:691-6, 2002.
Joseph JA, Shukitt-Hale B, Denisova NA, Bielinksi D, Martin A, McEwen JJ, Bickford PC. Reversals of age-related declines in neuronal signal transduction, cognitive, and motor behavioral deficits with blueberry, spinach, or strawberry dietary supplementation. J Neuroscience 19: 8114-21, 1999.
Kaiser L et al. Position of the American Dietetic Association: nutrition and lifestyle for a healthy pregnancy outcome. Journal of the American Dietetic Association. 108(3):553-61, 2008.
Kay CD, Holub BJ. The effect of wild blueberry (Vaccinium angustifolium) on post-prandial serum antioxidant status in human subjects. Br J Nutr 88: 389-98, 2002.
Kehrer JP. Free radicals as mediators of tissue injury and disease. Crit Rev Toxicol 23:21-48, 1993.
Kelly, G. S. Nutritional and botanical interventions to assist with the adaptation to stress. Alternative Medicine Review.4(4):249-265, 1999.
Khosh, F. Natural approach to hypertension. Alternative Medicine Review. 6(6), 2001.
Klenner F et al. Observations on the dose and administration of ascorbic acid when employed beyond the range of a vitamin in human pathology. Journal of Applied Nutrition. 23(3-4), 1971.
Kobrin SM and Goldfarb S. Magnesium Deficiency. Semin Nephrol. 10:525-35, 1990.
Koch R. Comparative study of Venostatin and Pycnogenol in chronic venous insufficiency. Phytother Res 16:S1-5, 2002.
Kohama, T., et al. Analgesic efficacy of French maritime pine bark extract in dysmenorrhea. Journal of Reproductive Medicine 49: 828-32, 2004.
Kohama, T., et al. The treatment of gynecological disorders with Pycnogenol ® . European Bulletin of Drug Research 7: 30-32, 1999.
Koparker AD, Augsburger LL, Shangraw RF. Intrinsic dissolution rates of tablet fillers and binders and their influence on the dissolution of drugs from tablet formulations. Pharm Res 7:80-85, 1990.
Lindsey L et al. Understanding optimal nutrition among women of childbearing age in the United States and Puerto Rico: employing formative research to lay the foundation for national birth defects prevention campaigns. Journal of Health Communication. 12(8):733-57, 2007.
Litoff, D., et al. Effects of pantothenic acid supplementation on human exercise. Med Sci Sport Exercise., 17(Supplement):287, 1985.
Liu, X., et al. Antidiabetic effect of Pycnogenol French maritime pine bark extract in patients with diabetes type II. Life Sci 75:2505-13, 2004.
Liu, X., et al. French maritime pine bark extract pycnogenol dose-dependently lowers glucose in type 2 diabetic patients. Diabetes Care 27: 839, 2004.
Locksmith G et al. Preventing neural tube defects: the importance periconceptional folic acid supplements. Obstetrics and Gynecology. 321(7):1027-1034, 1998.
Lopez-Ridaura R et al. Magnesium intake and risk of type 2 diabetes in men and women. Diabetes Care. 27:134-40, 2004.
Maizels, M., et al. A combination of riboflavin, magnesium, and feverfew for migraine prophylaxis: a randomized trial. Headache. 44(9):885-90, 2004.
Manna, S., et al. Resveratrol suppresses TNF-Induced activation of nuclear transcription factors NF-kB, activator protein-1, and apoptosis: potential role of reactive oxygen intermediates and lipid peroxidation. The Journal of Immunology 164: 6509-19, 2000.
Maritim, A., et al. Effects of pycnogenol treatment on oxidative stress in streptozotocin-induced diabetic rats. J Biochem Mol Toxicol 17:193-9, 2003.
Mauskop, A., et al. Role of magnesium in the pathogenesis and treatment of migraines. Clin Neurosci. 5(1):24-27, 1998.
Mazza G, Kay CD, Cottrell T, Holub BJ. Absorption of anthocyanins from blueberries and serum antioxidant status in human subjects. J Agric Food Chem 50:7731-37, 2002.
Merialdi M et al. Adding zinc to prenatal iron and folate tablets improves fetal neurobehavioral development. American Journal of Obstetrics and Gynecology. 180(2 Partt 1):483-490, 1999.
Merialdi M et al. Randomized controlled trial of prenatal zinc supplementation and fetal bone growth. American Journal of Clinical Nutrition. 79(5):826-830, 2004.
Meyer KA et al. Carbohydrates, dietary fiber, and incident type 2 diabetes in older women. Am J Clin Nutr. 71:921-30, 2000.
Miyagi, Y., et al. Inhibition of human low-density lipoprotein oxidation by flavonoids in red wine and grape juice. Am J Cardiol 0:1627-31, 1997.
Mock D et al. Marginal biotin deficiency during normal pregnancy. American Journal of Clinical Nutrition. 75(2):295-299, 2002. · Scholl T et al. Folic acid: influence on the outcome of pregnancy. American Journal of Clinical Nutrition. 71(5 Supplement):1295S-1303S, 2000.
Monograph. Vaccinium myrtillus (bilberry). Altern Med Rev 6:500-4, 2001.
Morin P et al. Multivitamin supplement for primary prevention of birth defects: application of a preventive clinical practice. Canadian Family Physician. 53(12):2142-3, 2007.
Murias M., et al. Resveratrol analogues as selective cyclooxygenase-2 inhibitors: synthesis and structure-activity relationship. 2004.
Nesaretnam K, et al. Effect of tocotrienols on the growth of a human breast cancer cell line in culture. Lipids 30:1139-43, 1995.
New SA et al. Nutritional influences on bone mineral density: a cross-sectional study in premenopausal women. Am J Clin Nutr. 65:1831-9, 1997.
Nuttall SL, Kendall MJ, Bombardelli E, Morazzoni P. An evaluation of the antioxidant activity of a standardized grape seed extract, Leucoselect. J Clin Pharm Ther 23: 385-89, 1998.
Ofek I, Goldhar J, Zafriri D, Lis H, Sharon N. Anti-Escherichia coli adhesion activity of cranberry and blueberry juices. New England J Med 324:1599, 1991.
Osada, K., et al. Experimental study of fatigue provoked by biotin deficiency in mice. Int J Vitam Nutr Res. 74(5):334-340, 2004.
Packer, L., et al. Antioxidant activity and biologic properties of a procyanidin-rich extract from pine (Pinus maritima) bark, pycnogenol. Free Radic Biol Med 27:704-24, 1999. Review.
Paolisso G et al. Daily magnesium supplements improve glucose handling in elderly subjects. Am J Clin Nutr. 55:1161-7, 1992.
Pathak P et al. Prevalence of multiple micronutrient deficiencies amongst pregnant women in a rural area of Haryana. Indian Journal of Pediatrics. 71(11):1007-14, 2004. Review.
Peacock JM et al. Relationship of serum and dietary magnesium to incident hypertension: The Atherosclerosis Risk in Communities (ARIC) Study. Annals of Epidemiology. 9:159-65, 1999.
Peikert, A., et al. Prophylaxis of migraine with oral magnesium: Results from a prospective, multi-center, placebo-controlled and double-blind randomized study. Cephalalgia. 16(4):257-63, 1996.
Popoviciu L et al. Clinical, EEG, electromyographic and polysomnographic studies in restless legs syndrome caused by magnesium deficiency (abstract). Rom J Neurol Psychiatry. 31:55-61, 1993.
Preuss HG, Gondal JA, Lieberman S. Association of macronutrients and energy intake with hypertension. J Am Coll Nutr. 15:21-35, 1996.
Quadri, P., et al. Homocysteine, folate, and vitamin B-12 in mild cognitive impairment, Alzheimer disease, and vascular dementia. Am J Clin Nutr. 80(1):114-122, 2004.
Qureshi, A, et al. Response of hypercholesterolemic subjects to administration of tocotrienols. Lipids 30:1171-77, 1995.
Ren A et al. Comparison of blood folate levels among pregnant Chinese women in areas with high and low prevalence of neural tube defects. Public Health Nutrition. 10(8):762-8, 2007.
Repke J. Calcium, magnesium, and zinc supplementation and perinatal outcome. Clinical Obstetrics and Gynecology. 34(2):262-7, 1991. Review.
Riggs, K. M., et al. Relations of vitamin B-12, vitamin B-6, folate, and homocysteine to cognitive performance in the Normative Aging Study. American Journal of Clinical Nutrition. 63(3):306-314, 1996.
Rimbach G, Virgili F, Park YC, Packer L. Effect of procyanidins from Pinus maritime on glutathione levels in endothelial cells challenged by 3-morpholinosydnonimine or activated macrophages. Redox Rep 4:171-77, 1999.
Rodriguez-Moran M and Guerrero-Romero F. Oral magnesium supplementation improves insulin sensitivity and metabolic control in type 2 diabetic subjects. Diabetes Care. 26:1147-52, 2003.
Roffe, C., et al. Randomised, cross-over, placebo controlled trial of magnesium citrate in the treatment of chronic persistent leg cramps. Med Sci Monit. 8(5):CR326-CR330, 2002.
Rohdewald, P. A review of the French maritime pine bark extract (Pycnogenol ®), a herbal medication with a diverse clinical pharmacology. Int J Clin Pharmacol Ther 40:158-68, 2002. Review.
Rohdewald, P. Pycnogenol ®. In "Flavonoids in Health and Disease". Ed. Catherine Rice-Evans and Lester Packer. New York: Marcel Dekker, Inc., 1998. 405-19.
Roseff, S., et al. Improvement in sperm quality and function with French maritime pine tree bark extract. Journal Reproductive Medicine 47: 821-4, 2002.
Roseff, S., et al. Improvement of sperm quality by Pycnogenol ®. European Bulletin of Drug Research 7: 33-6, 1999.
Rude KR. Magnesium metabolism and deficiency. Endocrinol Metab Clin North Am. 22:377-95, 1993.
Rude R et al. Magnesium deficiency and osteoporosis: animal and human observations. J Nutr Biochem. 15(12):710-716, 2004.
Ryan-Harshman M et al. Folic acid and prevention of neural tube defects. Canadian Family Physician. 54(1):36-8, 2008.
Ryder K et al. Magnesium intake from food and supplements is associated with bone mineral density in healthy older white subjects. J Am Geriatr Soc. 53(11):1875-1880, 2005.
Saito, M., et al. Antiulcer activity of grape seed extract and procyanidins. J Agric Food Chem 46: 1460-4, 1998.
Sales CH et al. Influence of magnesium status and magnesium intake on the blood glucose control in patients with type 2 diabetes. Clin Nutr. 30(3):359-64, 2011.
Sanjuliani AF et al. Effects of magnesium on blood pressure and intracellular ion levels of Brazilian hypertensive patients. Int J Cardiol. 56:177-83, 1996.
Saris NE, Mervaala E, et al. Magnesium: an update on physiological, clinical, and analytical aspects. Clinica Chimica Acta. 294:1-26, 2000.
Saris, N.-E. L., et al. Magnesium: an update on physiological, clinical and analytical aspects. Clinica Chimica Acta. 294:1-26, 2000.
Sato-Mito N et al. The midpoint of sleep is associated with dietary intake and dietary behavior among young Japanese women. Sleep Med. 12(3):289-94, 2011.
Scholl T et al. Folic acid: influence on the outcome of pregnancy. American Journal of Clinical Nutrition. 71(5 Supplement):1295S-1303S, 2000.
Scholl T et al. Vitamin E: maternal concentrations are associated with fetal growth. American Journal of Clinical Nutrition. 84(6):1442-8, 2006.
Scholl T. Maternal nutrition before and during pregnancy. Nestle Nutrition Workshop Series Pediatric Program. 61:79-89, 2008.
Schönlau, F., et al. Pycnogenol ® for diabetic retinopathy. International Ophthalmology 24: 161-171, 2002.
Schönlau, F., et al. The cosmeceutical Pycnogenol ®. J Appl Cosmetology 20: 241-6, 2002.
Segger, D. and Schönlau, F. Supplementation with Evelle ® improves skin smoothness and elasticity in a double blind, placebo-controlled study with 62 women. Journal of Dermatological Treatment 15:222-26, 2004.
Sharma, S., et al. Pycnogenol ® inhibits the release of histamine from mast cells. Phytotherapy Research 17: 66-69, 2003.
Shaw G et al. Risks of orofacial clefts in children born to women using multivitamins containing folic acid periconceptionally. Lancet. 346(8972):393-6, 1995.
Shechter M et al. Effects of oral magnesium therapy on exercise tolerance, exercise-induced chest pain, and quality of life in patients with coronary artery disease. Am J Cardiol. 91:517-21, 2003.
Shechter M et al. Oral magnesium therapy improves endothelial function in patients with coronary artery disease. Circulation.102:2353-58, 2000.
Shi, J., et al. Polyphenolics in grape seeds-biochemistry and functionality. J Med Food 6:291-9, 2003. Review.
Sinclair, S., et al. Migraine headaches: nutritional, botanical and other alternative approaches. Alternative Medicine Review. 4(2):86-95, 1999.
Sobota AE. Inhibition of bacterial adherence by cranberry juice: powerfulial use for the treatment of urinary tract infactions. J Urology 131:1013-1016, 1984.
Soloway MS, Smith RA. J Am Med Assoc 260:1465, 1988.
Song Y et al. Dietary magnesium intake in relation to plasma insulin levels and risk of type 2 diabetes in women. Diabetes Care. 27:59-65, 2004.
Spadea, L., et al. Treatment of vascular retinopathies with Pycnogenol ®. Phytotherapy Research 15: 219-23, 2001.
Stein, J., et al. Purple grape juice improves endothelial function and reduces the susceptibility of LDL cholesterol to oxidation in patients with coronary artery disease. Circulation 100:1050-5, 1999.
Stendig-Lindberg G et al. Trabecular bone density in a two year controlled trial of peroral magnesium in osteoporosis. Magnes Res. 6:155-63, 1993.
Suarez L et al. Maternal serum B(12) levels and risk for neural tube defects in a Texas-Mexico border population. Annals of Epidemiology. 13(2):81-88, 2003.
Svetkey LP et al. Effects of dietary patterns on blood pressure: Subgroup analysis of the Dietary Approaches to Stop Hypertension (DASH) randomized clinical trial. Arch Intern Med. 159:285-93, 1999.
Takada, Y., et al. Nonsteroidal anti-inflammatory agents differ in their ability to suppress NF-kappaB activation, inhibition of expression of cyclooxygenase-2 and cyclin D1, and abrogation of tumor cell proliferation. Oncogene 23: 9247-58, 2004.
Tanabe, K., et al. Efficacy of oral magnesium administration on decreased exercise tolerance in a state of chronic sleep deprivation. Jpn Circ J. 62(5):341-346, 1998.
Tanabe, K., et al. Erythrocyte magnesium and prostaglandin dynamics in chronic sleep deprivation. Clin Cardiol. 20(3):265-268, 1997.
Tomco, A, et al. Antioxidant effects of tocotrienol in patients with hyperlipidemia and carotid stenosis. Lipids 30: 1179-83, 1995.
Tranquilli AL et al. Calcium, phosphorus and magnesium intakes correlate with bone mineral content in postmenopausal women. Gynecol Endocrinol. 8:55-8, 1994.
Trauninger, A., et al. Oral magnesium load test in patients with migraine. Headache. 42(4):114-119, 2002.
Tucker KL, Hannan MT, Chen H, Cupples LA, Wilson PW, Kiel DP. Potassium, magnesium, and fruit and vegetable intakes are associated with greater bone mineral density in elderly men and women. Am J Clin Nutr. 69(4):727-36, 1999.
Ueda, T., et al. Preventative effect of natural and synthetic antioxidants on lipid peroxidation in the mammalian eye. Ophthalmic Res 28: 184-92, 1996.
Vaidya A, et al. Effects of antenatal multiple micronutrient supplementation on children's weight and size at 2 years of age in Nepal: follow-up of a double-blind randomized controlled trial. Lancet. 371(9611):492-9, 2008.
Van den Berg M., et al. Combined vitamin B-6 plus folic acid therapy in young patients with arteriosclerosis and hyperhomocysteinemia. Journal Vascular Surgery. 20(6):933-940, 1994.
van Oort FV, Melse-Boonstra A, Brouwer IA, et al. Folic acid and reduction of plasma homocysteine concentrations in older adults: a dose-response study. 77:1318-23, 2003.
Vargiu, R., et al. Enhancement of muscular performance by a coformulation of propionyl-L-carnitine, coenzyme Q(10), nicotinamide, riboflavin and pantothenic acid in the rat. Physiol Behav. 76(2):257-63, 2002.
Vormann J. Magnesium: nutrition and metabolism. Molecular Aspects of Medicine. 24:27-37, 2003.
Wald DS, Bishop L, Wald NJ, et al. Randomized trial of folic acid supplementation and serum homocysteine levels. Arch Intern Med 61:695-700, 2001.
Wald N et al. Quantifying the effect of folic acid. Lancet. 358(9298):2069-2073, 2001.
Wallerath, T., et al. Resveratrol, a polyphenolic phytoalexin present in red wine, enhances expression and activity of endothelial nitric oxide synthase. Circulation 106:1652-8, 2002.
Wang, F., et al. Oral magnesium oxide prophylaxis of frequent migrainous headache in children: a randomized, double-blind, placebo-controlled trial. Headache. 43(6):601-610, 2003.
Watson, R. Pycnogenol ® and cardiovascular health. Evidence-Based Integrative Medicine 1: 27-32, 2003.
Wei, Z., et al. Pycnogenol enhances endothelial cell antioxidant defense. Redox Report 3: 219-24, 1997.
Wen S et al. Folic acid supplementation in early second trimester and the risk of preeclampsia. American Journal of Obstetrics and Gynecology. 198(1):45.e1-7, 2008.
Werbach, M. R. Nutritional strategies for treating chronic fatigue syndrome. Alternative Medicine Review. 5(2):93-108, 2000.
Wester PO. Magnesium. Am J Clin Nutr. 45:1305-12, 1987.
Widman L et al. The dose-dependent reduction in blood pressure through administration of magnesium. A double blind placebo controlled cross-over study. Am J Hypertens. 6:41-5, 1993.
Wilcox A et al. Folic acid supplements and risk of facial clefts: national population based case-control study. British Medical Journal. 334(7591):464, 2007.
Wilson R et al. Pre-conceptional vitamin/folic acid supplementation 2007: the use of folic acid in combination with a multivitamin supplement for the prevention of neural tube defects and other congenital anomalies. Journal of Obstetrics Gynecology Canada. 29(12):1003-26, 2007.
Woo, K. S., et al. Long-term improvement in homocysteine levels and arterial endothelial function after 1-year folic acid supplementation. American Journal of Medicine. 112(7):535-539, 2002.
Woolhouse, M. Migraine and tension headache--a complementary and alternative medicine approach. Aust Fam Physician. 34(8):647-51, 2005. Review.
Wynn A and Wynn M. Magnesium and other nutrient deficiencies as possible causes of hypertension and low birth weight. Nutrition and Health. 6(2):69-88, 1988. Review.
Yamakoshi, J., et al. Proanthocyanidin-rich extract from grape seeds attenuates the development of aortic atherosclerosis in cholesterol-fed rabbits. Atherosclerosis 142:139-149, 1999.
Yu-Yahiro, J. A. Electrolytes and their relationship to normal and abnormal muscle function. Orthop Nurs. 13(5):38-40, 1994.
Zagré N et al. Prenatal multiple micronutrient supplementation has greater impact on birth weight than supplementation with iron and folic acid: a cluster-randomized, double-blind, controlled programmatic study in rural Niger. Food and Nutrition Bulletin. 28(3):317-27, 2007.
Zheng W, Wang SY. Oxygen radical absorbing capacity of phenolics in blueberries, cranberries, chokeberries, and lingonberries. J Agric Food Chem 51:502-9, 2003.
TLS Product Reviews
---
Displaying reviews 1 - 5 of 18
---
Great formulation for women! Has in it everything I need. Convenient and easy to use and tastes good too. In fact, I'm drinking mine right now!
Response from Customer Service:
07/27/2020
Dear Valued Customer,

Thank you for taking the time to share your thoughts on the Isotonix Essentials Women's Health! We are happy to hear you are pleased with the product.

Thank you again!
The Product Information Team
---
I love adding this to my regimen that is already quite full, but this really rounds out and fills in any gaps for all the nutrition I need, especially as the years pass. Just noting all the ingredients, I know it is a complete compliment!
Response from Customer Service:
05/26/2020
Dear Valued Customer,

Thank you for taking the time to leave your thoughts on the Isotonix Essentials® Women's Health! We are happy to hear you are pleased with the product.

Thank you again!
The Product Information Team
---
I love the convenience, the taste and how well I feel when I take this packet! I take many other Isotonix products, but the ingredients in this packet help me feel energetic, digested and mentally balanced. I like this in a fun glass during quiet time. It's my go to wind down drink!
---
This complete vitamin pack really packs a punch. It is so much more than a multi-vitamin. With quality trademarked ingredients like Quatrafolic, SunActive and Pycnogelol, it provides me with energy and focus when I just have too much going on. I also love the added hyaluronic acid, so not only do I feel good when I'm running around like crazy, but I look good doing it!
---
Great product for overall Women's Health but also to balance and regulate our system. I feel a more sustained energy throughout the day and overall more calm