NutriClean® 7-Day Cleansing System with Stevia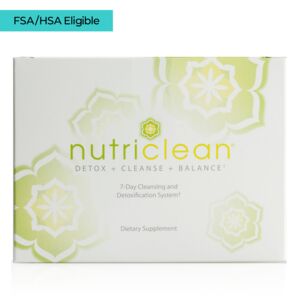 $46.25
$0.93
7-Day Cleansing System with Stevia (Advanced Fiber Powder, HepatoCleanse Capsules and Release Capsules)
SKU: 13284
FEATURED RECOMMENDATIONS
TLS Product Reviews
---
Displaying reviews 1 - 5 of 63
---
I have done a few cleanses in my life and this is one of my favorites - It has a gentle feel on the insides and you wont be running to the bathroom like you may think with some cleanses :)

Response from Customer Service:
02/10/2022
Dear Valued Customer,

Thank you for taking the time to share your thoughts on the NutriClean® 7-Day Cleansing System with Stevia! We are happy to hear you are pleased with the product!

Thank you again!
The Product Information Team
---
Very effective! I will definitely to cleanse the intestines twice a year with NutriClean 7- day cleaning system with Stevia
Response from Customer Service:
10/14/2021
Dear Valued Customer,

Thank you for taking the time to share your feedback on the NutriClean® 7-Day Cleansing System with Stevia! We are happy to hear that you are pleased with this product!

Thank you again!
The Product Information Team
---
felt good two weeks post cleanse - i will be doing this cleanse again soon!
Response from Customer Service:
07/01/2021
Dear Valued Customer,

Thank you for taking the time to share your thoughts on the NutriClean® 7-Day Cleansing System with Stevia! We are so happy to hear you are pleased with this product.

Thank you again!
The Product Information Team
---
Great product. I typically use it twice a year. So glad for the Stevia.
Response from Customer Service:
06/04/2021
Dear Valued Customer,

Thank you for taking the time to share your thoughts on the NutriClean® 7-Day Cleansing System with Stevia! We are happy to hear you are pleased with the product.

Thank you again!
The Product Information Team
---
I love this product u seen results immediately and best of all I keep seeing results
Response from Customer Service:
06/01/2021
Dear Valued Customer,

Thank you for taking the time to share your thoughts on the NutriClean® 7-Day Cleansing System with Stevia! We are happy to hear you are pleased with the product.

Thank you again!
The Product Information Team