TLS Choice Vanilla Caramel Crunch Energy Bar with Greek Yogurt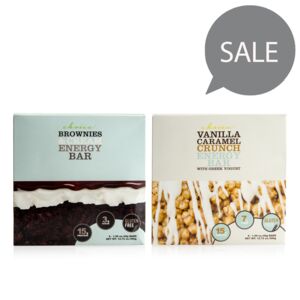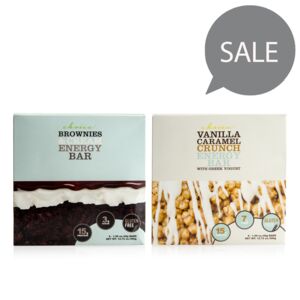 $22.95
$22.95
$0.46
Single Box (8 Bars)
SKU: 6803
FEATURED RECOMMENDATIONS
Benefits
---
May help to curb hunger and increase energy
Provides 15 grams of protein per bar
Provides 7 grams of fiber per bar
Only 160 calories per bar
Helps promote optimal body composition
Gluten free
No trans fats or hydrogenated oils
Naturally sweetened – no artificial sweeteners
Product Classifications
---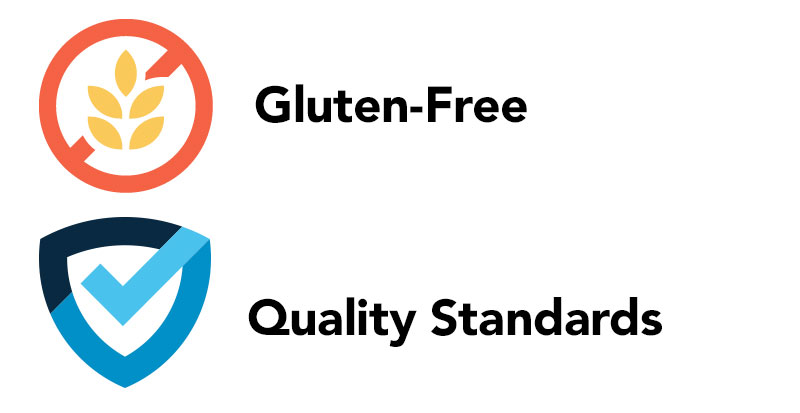 Gluten-Free - The finished product contains no detectable gluten (<10ppm gluten)
Quality Standards - GMP Operations and Standardized Ingredients
Checked For: Heavy Metals, Microbiological Contaminants, Allergens, Residual Solvents, Potency, Purity and Identity
Why Choose TLS Choice Vanilla Caramel Crunch Energy Bar?
---
With 15 grams of protein and 7 grams of fiber, TLS Choice Energy Bars may help to curb your hunger and increase your energy, while giving you the nutrition you need, when you need it. While other nutrition bars might provide key nutrients, many also contain high amounts of calories, sugar and fats. TLS Choice Energy Bars give you the nutrition you need with only 7 grams of sugar and 4.5 grams of fat, plus 40 percent fewer calories compared to leading nutrition bars on the market. Plus, TLS Choice Energy bars are gluten free with no hydrogenated oils.
A convenient snack option, TLS Choice Energy Bars provide a great nutritional alternative for active lifestyles, and are a guilt-free treat made for everyone, and can be enjoyed anytime, anywhere.
Whether the goal is to help manage your weight, help maintain an active lifestyle, or just stay ahead of your hectic schedule, TLS Choice Energy Bars are a nutritious snack alternative that can help you go the distance!
This product is sold with at least a 3 month shelf life remaining.

Ingredients
---
Protein (Soy and Whey)
Protein is an important component of every cell in the body. Protein supports your body's ability to build and repair tissues, as well as produce enzymes, hormones and other body chemicals. Protein is an important building block of bones, muscles, cartilage, skin and blood. Unlike fat and carbohydrates, the body does not store protein and, therefore, has no reservoir to draw on when it needs a new supply – therefore, you need to get it through diet or supplementation. Clinical studies consistently show that high-protein diets increase satiety and decrease hunger compared with high-fat or high-carbohydrate diets. In addition, most of the studies reviewed showed that most people on high-protein diets consume fewer calories than the average person.
Diets higher in protein and moderate in carbs — along with regular exercise — are believed by experts to support cardiovascular health. Protein also helps the body maintain lean tissue while burning fat for fuel, and this happens without dieters being sidetracked with constant hunger. Researchers don't understand exactly how protein works to satisfy hunger, but some believe that protein causes the brain to receive lower levels of appetite-stimulating hormones.
Inulin Fiber (fructo-oligosaccharide extract of chicory root)
Dietary fiber is a key component of healthy eating, and studies show that the average American simply does not get enough from their typical diet.

Fiber supports numerous areas of health; it supports healthy digestion, helps maintain normal blood sugar levels and promotes cardiovascular health.
Inulin fiber is present in foods such as asparagus, chicory, garlic, Jerusalem artichoke and onion. In addition to the benefits above, inulin fiber also provides prebiotic fiber, a specific variety which acts as a food source for friendly bacteria. As such, inulin may help the body maintain balanced bacterial populations, further contributing to digestive health and immune function.
FAQs
---
Who should use Choice Energy Bars?
Anyone who is seeking a convenient alternative to high-calorie, low-nutrient fast food.
Do Choice Energy Bars assist in weight management?
Choice Energy Bars can be incorporated into a weight loss plan by providing a source of quality protein and fiber, as well as much-needed nutrients that can also provide weight management support.
Are Choice Energy Bars vegetarian?
Yes. Choice Energy Bars only utilize soy and whey protein, while their fiber component is produced from various cereal crops.
How often should I have a Choice Energy Bar?
Choice Energy Bars are especially useful as a snack between meals to help fight hunger and provide additional protein, fiber and nutrients. They can be enjoyed anytime.
Can I eat a Choice Energy Bar along with a meal?
Absolutely! Choice Energy Bars are great on their own, but can also be used as an after dinner dessert or as a nutritious addition to a salad, soup or sandwich.
Which other products are best combined with Choice Energy Bars?
This is ultimately a matter of your nutritional goals. Choice Energy Bars can be used in combination with dietary supplements. Someone interested in healthy muscle retention and anti-aging might use them along with Ultra Prime™ Secretagogue HGH Enhancer or Prime™ Ultimate Longevity Formula by Isotonix. Those seeking support for cardiovascular health may wish to combine these bars with Heart Health™ Essential Omega III Fish Oil with Vitamin E, while people seeking additional antioxidant protection may wish to use Choice Energy Bars along with Isotonix OPC-3®.
Science
---
Anthony JC, Anthony TG, Kimball SR, Jefferson LS. Signaling pathways involved in translational control of protein synthesis in skeletal muscle by leucine. J Nutr. 131:856S-60S, 2001.
Blomstrand E et al. Influence of ingesting a solution of branched-chain amino acids on plasma and muscle concentrations of amino acids during prolonged submaximal exercise. Nutrition. 12:485-90, 1996.
Blomstrand, E., et al. Branched-chain amino acids activate key enzymes in protein synthesis after physical exercise. Journal of Nutrition. 136(1):269S-273S, 2006.
Burke, D. G., et al. The effect of whey protein supplementation with and without creatine monohydrate combined with resistance training on lean tissue mass and muscle strength. Int J Sport Nutr Exerc Metab. 11(3):349-364, 2001.
Cribb PJ, et al. The effect of whey isolate and resistance training on strength, body composition, and plasma glutamine. Int J Sport Nutr Exerc Metab. 16:494-509, 2006.
Hall, W. L., et al. Casein and whey exert different effects on plasma amino acid profiles, gastrointestinal hormone secretion and appetite. British Journal of Nutrition. 89(2):239-248, 2003.
Hesta, M., Debraekeleer, J., Janssens, G. P. J. & De Wilde, R. (2001) [The effect of a commercial high-fibre diet and an Isomalto-oligosaccharide-supplemented diet on post-prandial glucose concentrations in dogs] J. Animal Physio. Animal Nutr., 85(7-8) 217.
Hutson SM and Harris RA. Introduction. Symposium: Leucine as a nutritional signal. J Nutr 131:839S-40S, 2001.
Kaneko, T.; Komoto, T.; Kikuchi, H.; Shiota, M.; Yatake, T.; lino, H.; Tsuji, K. 1993. [Effects of isomaltooligosaccharides intake on defecation and intestinal environment in healthy volunteers]. Ninon Kasei Gakkaishi 44(4):245-254 [Japanese with English summary].
Kerksick CM, et al. The effects of protein and amino acid supplementation on performance and training adaptations during ten weeks of resistance training. J Strength Cond Res. 20(3):643-53, 2006.
Kimball SR and Jefferson LS. Control of protein synthesis by amino acid availability. Curr Opin Clin Nutr Metab Care. 5:63-7, 2002.
Layman DK. The role of leucine in weight loss diets and glucose homeostasis. J Nutr. 133:261S-7S, 2003.
MacLean DA and Graham TE. Branched-chain amino acid supplementation augments plasma ammonia responses during exercise in humans. J Appl Physiol. 74:2711-7, 1993.
MacLean DA and Graham TE, Saltin B. Branched-chain amino acids augment ammonia metabolism while attenuating protein breakdown during exercise. Am J Physiol. 267:E1010-22, 1994.
Marshall, K. Therapeutic applications of whey protein. Alternative Medicine Review. 9(2):136-156, 2004.
Merchant, A. T., et al. Protein intake is inversely associated with abdominal obesity in a multi-ethnic population. Journal of Nutrition. 135(5):1196-1201, 2005.
Paddon-Jones, D., et al. Differential stimulation of muscle protein synthesis in elderly humans following isocaloric ingestion of amino acids or whey protein. Exp Gerontol. 2005.
Qing, G.; Yi, Y.; Guohong, J.; Gai, C. 2003. [Study on the regulative effect of Isomaltooligosaccharides on human intestinal flora]. Wei Sheng Yan Jiu 32(1):54-55 [Chinese with English summary].
Rycroft, C.E.; Jones, M.R.; Gibson, G.R.; Rastall, R.A. 2001. A comparative in vitro evaluation of the fermentation properties of prebiotic oligosaccharides. J Appl Microbiol 91(5):878-887.
Sheng, G. E., Dong-lian, C. A. I. & Wan, Li-li. (2006) [Determination of glycemic index of xylitol and isooligosccharide] Chin. J. Clin. Nutr., 14(4) 235-237.
Shimomura, Y., et al. Nutraceutical effects of branched-chain amino acids on skeletal muscle. Journal of Nutrition. 116(2): 529S-532S, 2006.
Shimomura, Y., et al. Exercise promotes BCAA catabolism: effects of BCAA supplementation on skeletal muscle during exercise. Journal of Nutrition. 134(6):1583S-1587S, 2004.
Tang JE, et al. Minimal whey protein with carbohydrate stimulates muscle protein synthesis following resistance exercise in trained young men. Appl Physiol Nutr Metab 32:1132-8, 2007.
Tome, D., et al. Protein, amino acids and the control of food intake. British Journal of Nutrition. 92(Supplement 1):S27-S30, 2004.
Tungland, B.C.; Meyer, D. 2002. Nondigestible oligo-and polysaccharides (dietary fiber): Their physiology and role in human health and food. Compr Rev Food Sci Food Safety 3:73-9.
Volpi, E., et al. Essential amino acids are primarily responsible for the amino acid stimulation of muscle protein anabolism in healthy elderly adults. American Journal of Clinical Nutrition. 78: 250-258, 2003.
Walker TB et al. The influence of 8 weeks of whey-protein and leucine supplementation on physical and cognitive performance. Int J Sport Nutr Exerc Metab. 20(5):409-17, 2010.
Wu G. Amino acids: metabolism, functions, and nutrition. Amino Acids. 37(1):1-17, 2009. Review.
TLS Product Reviews
---
Displaying reviews 1 - 4 of 4
---
I Love these bars ( Brownie flavor too) not only because they taste great but they have less sugar and carbs than most.
Product recommendation: approx. 25 million Americans, 75% of all African Americans and 90% of Asians are lactose intolerant. we desperately need a meal replacement/energy bar. It's a larger market than most people realize and a dairy free bar could work for Vegans, too! Thanks for your consideration.
Response from Customer Service:
11/06/2019
Dear Valued Customer,
Thank you for taking the time to leave your thoughts on the TLS Choice Energy Bars. We are happy to hear you are pleased with this product. We also appreciate you sharing your ideas for lactose free products. We will be sure to share them with the appropriate team for consideration!
Thank you again!
The Product Information Team
---
As a busy mom of 3 and an entrepreneur, this energy bar is my best friend when I am on the go! There are a lot energy bars on the market, but I really don't have time to check the nutrition label and make sure they are good for my health and diet. But this one, I have no doubt, because MA already check everything for me for my customers! All I need is just throw couple bars in my bag, and I am ready to rock!
---
It makes sense for me to have these energy bars available for me immediately. Days can get so busy and draining. Thankfully, this bar provides the nutrition and deliciousness to satisfy that exhaustion I get. Whether I'm in the middle of a commute to/from work or finally getting that short break during work, this vanilla caramel bar saves me!
---
This bar is different from the market brand. It doesn't taste any artificial sweeten flavor and not as hard as others. It's the best energy bar I have ever tried.