TLS® Trim Tea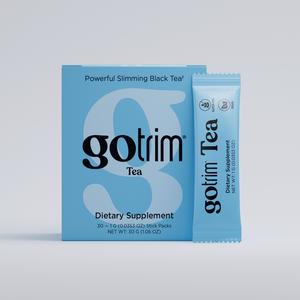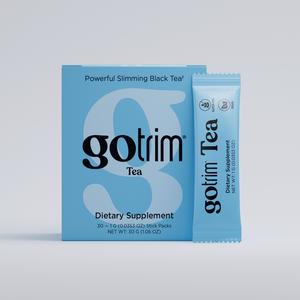 $39.95
$0.80
Single Box (30 stickpacks)
SKU: 6610
Benefits
---
Supports leptin sensitivity to help manage hunger and stimulate lipolysis
Helps curb appetite
May promote a feeling of fullness
Promotes healthy weight management
Supports/helps promote weight loss
Supports metabolic balance and wellness
Moderates glycerol-3-phosphate dehydrogenase enzyme activity to reduce the amount of ingested starches that are converted to triglycerides and stored as fat
Supports levels of adiponectin to help maintain healthy insulin sensitivity
Helps maintain normal blood sugar levels
Helps maintain normal insulin activity
Helps maintain normal cholesterol levels
Supports cardiovascular health

Product Classifications
---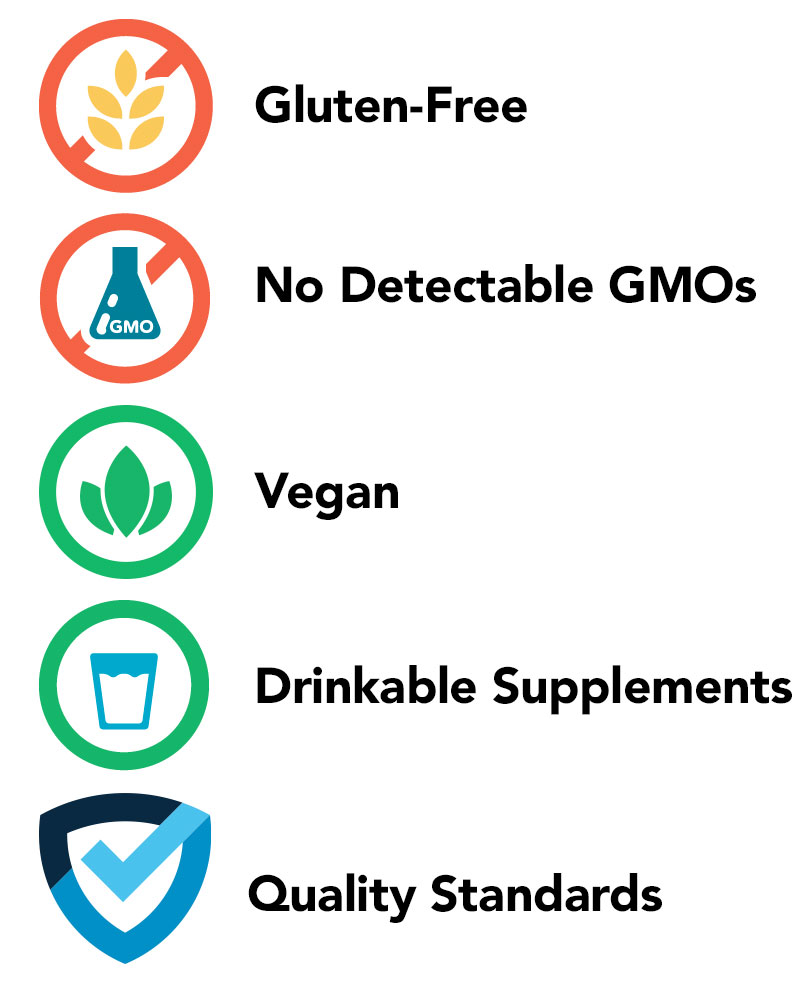 Gluten-Free - The finished product contains no detectable gluten (<10ppm gluten)
No Detectable GMOs - The finished product contains no detectable genetically-modified organisms
Vegan - The product is made without ingredients produced by or derived from animals
Drinkable Supplements - Easy-to-swallow supplements in liquid form are immediately available to the body for absorption
Quality Standards - GMP Operations and Standardized Ingredients
Checked For: Heavy Metals, Microbiological Contaminants, Allergens, Residual Solvents, Potency, Purity and Identity
Why Choose TLS Trim Tea?
---
Are you looking for a simple and convenient way to help manage your weight? Your health goals may be closer than you think with our thermogenic slimming tea from TLS® Weight Loss Solution.*
TLS® Trim Tea is a gluten-free, thermogenic slimming tea formulated to promote a multi-functional method to weight loss. Containing WellTrim® iG (Irvingia Gabonensis/African Mango) and black tea extract, Trim Tea uses a three-pronged approach to tackle weight management, targeting: satiety, appetite control and metabolic balance. While there are other weight management competitors on the market that use WellTrim® iG, most of them do not offer a product in the form of a tea.*
WellTrim® iG, is a patented, clinically tested seed extract for weight loss and metabolic wellness. WellTrim® iG helps support weight loss by moderating glycerol-3-phosphate dehydrogenase enzyme activity to reduce the amount of ingested starches that are converted to triglycerides and stored as fat. It has also shown in research studies to promote feelings of fullness. Alongside WellTrim® iG, black tea extract enhances TLS® Trim Tea, as it contains antioxidants that have been shown to provide cardiovascular health support.*
Most slimming teas on the market today are sold as 14-day supplies and require two daily servings – one cup in the morning and another in the evening. TLS® Trim Tea is a powerful formula that only recommends a single daily serving. Additionally, slimming teas often induce a laxative effect, which is a quick fix rather than a sustainable solution for long-term weight management. TLS® Trim Tea is specifically designed to promote effective weight management.*
TLS® Trim Tea helps curb appetite and supports metabolic balance to help promote healthy weight management. Grab our easy-to-use stick packs when you're on the go and enjoy hot or cold.*
Ingredients
---
Black Tea Extract (Camellia sinensis): 700 mg
Camellia sinensis is a plant used to produce various types of teas, including black tea, green tea, and oolong tea. The difference in the teas involves the process in which the leaves are fermented. Leaves are fermented in black tea, partially fermented in oolong tea and unfermented in green tea. Due to these differential fermentation processes, black tea and green tea have different chemical constituents.
Polyphenols – such as flavonoids including catechins, thearubigins, and theaflavins — are abundant in black tea and thought to be responsible for many of its benefits. Black tea also contains tannins.*
WellTrim® iG (IGOB131®) African Mango (Irvingia gabonensis) Seed Extract: 300 mg
WellTrim iG is a clinically-studied extract of African mango, also known as Irvingia gambogia. The African mango trees can be found throughout farms and tropical forests of Central and Western Africa. This botanical ingredient is a traditional West African culinary fruit kernel in which the mucilage (a glycoprotein) is used to make traditional soups, such as Ogbono. WellTrim® iG is the authentic, patented, clinically-tested irvingia seed extract for weight loss and metabolic wellness. One of WellTrim iG's mechanisms of action is supporting leptin sensitivity.*
Leptin is a hormone involved with hunger signals. Research has shown leptin levels to be elevated in those who are overweight. Irvingia gabonensis supports leptin in its ability to enter the brain and signal the stomach that it is full.*
Studies have shown Irvingia gabonensis also supports levels of the hormone adiponectin, a hormone closely related to glucose regulation/insulin sensitivity. Insulin helps our body store glucose correctly. This helps maintain normal blood sugar levels and promotes normal insulin activity. Higher levels of adiponectin are associated with increased insulin sensitivity, which can increase long-term metabolic health and overall weight loss. Higher adiponectin levels have also been shown to beneficially inhibit adipocytes (fat cells) from differentiating and multiplying, support fat burning and to support healthy endothelial function. Adiponectin levels are inversely related to body fat percentage; the greater the levels of adiponectin, the lower the percentage of fat. Additionally, the body's fat cells store excess fat in a form that is easily packed away.*
Irvingia gabonensis acts upon one of the enzymes, glycerol-3-phosphate dehydrogenase, which helps form this stored fat. By moderating this enzyme, less fat is formed, causing a decline in the amount of fat stored. By supporting leptin sensitivity and healthy levels of adiponectin, Irvingia has the potential to help control hunger, help maintain normal blood sugar balance and promote thermogenesis–all important components of the metabolic rate. There are two published human clinical studies and that have shown effects of Irvingia gabonensis for areas including appetite control, satiety, thermogenesis, weight management and metabolic wellness. Significant improvements in weight management and metabolic wellness variables occurred in both studies.*+
WellTrim® iG is a trademark of Icon Group, LLC.
IGOB131® is a trademark of Gateway Health Alliances, Inc. and is protected under U.S. Patent 7,537,790.
FAQs
---
What does thermogenic mean?
The production of heat in the body so that excess fat is used as energy.*
What is the difference between green tea extract and black tea extract?
Though they come from the same camellia sinensis plant, black tea is different from green tea in its process. Black tea leaves are aged more and oxidized by the sun, unlike green tea, which is not processed as long. Because of the difference in processing, they support health in different ways. Black tea extract contains theaflavins, which have contributed to weight loss in past research studies.
How do I take TLS® Trim Tea?
Mix one stickpack with 6 fl. oz. of hot or cold water. Trim Tea is most effective if taken 30-60 minutes before a meal, but not required. You may use more or less water depending on preference of tea taste.
How often should I drink Trim Tea?
As a dietary supplement, take once daily or as directed by your healthcare provider.
What products can I use in conjunction with TLS® Trim Tea?
All TLS® products can be used in conjunction with the Trim Tea.
How long should I use Trim Tea?
While everyone's body and weight management journey is different, a clinical study showed reduction of body weight and improvement in metabolic parameters with the use of WellTrim® iG over a 10-week period.†
What does Trim Tea taste like?
Trim Tea tastes like a very potent, clean black tea.
Is Trim Tea caffeinated?
Yes, Trim Tea is caffeinated from the black tea. There are 21 mg of caffeine per serving.
How does it differ from other slimming teas on the market?
Other slimming teas often induce a laxative effect, which is a quick fix rather than a sustainable solution for long-term weight management. TLS® Trim Tea is a thermogenic slimming tea, specifically designed to promote effective, lasting weight loss.*
Are there any warnings for this product?
If you are currently taking any prescription medication or have an ongoing medical condition, you should consult your healthcare practitioner before using this product.
*These statements have not been evaluated by the Food and Drug Administration. This product is not intended to diagnose, treat, cure, or prevent any disease..
†The average person using 300 mg of WellTrim® iG per day, eating sensibly and exercising regularly, can expect to lose up to 2 pounds per week and 4.1% body fat percentage lost over a 10 week period of time.
Science
---
Bray G and York D. Clinical review 90: Leptin and clinical medicine: a new piece in the puzzle of obesity. Journal of Clinical Endocrinology and Metabolism. 82(9):2771-6, 1997.
Cohen P, et al. Selective deletion of leptin receptor in neurons leads to obesity. Journal of Clinical Investigation. 108(8):1113-21, 2001.
Flegal K et al. Prevalence and trends in obesity among US adults, 1999-2008. JAMA. 303(3):235-241, 2010.
Friedman JM. The function of leptin in nutrition, weight, and physiology. Nutrition Reviews. 60(10 Pt 2):S1-14; discussion S68-84, 85-7, 2002. Review.
Gil-Campos M, et al. Adiponectin, the missing link in insulin resistance and obesity. Clinical Nutrition. 23(5):963-74, 2004. Review.
Hasani-Ranjbar S1, Jouyandeh Z, Abdollahi M. A systematic review of anti-obesity medicinal plants - an update. J Diabetes Metab Disord. 19;12(1):28, 2013.
Hodgson JM, Puddey IB, Croft KD, et al. Acute effects of ingestion of black and green tea on lipoprotein oxidation. Am J Clin Nutr. 71:1103-7, 2000.
Kubota K et al. Improvements of mean body mass index and body weight in preobese and overweight Japanese adults with black Chinese tea (Pu-Erh) water extract. Nutr Res. 31(6):421-8, 2011.
Ngondi J et al. Effect of Irvingia gabonensis kernel oil on blood and liver lipids on lean and overweight rats. Journal of Food Technology. 3:592-4, 2005.
Ngondi J et al. IGOB131, a novel seed extract of the West African plant Irvingia gabonensis, significantly reduces body weight and improves metabolic parameters in overweight humans in a randomized double-blind placebo controlled investigation. Lipids in Health and Disease. 8:1-7, 2009.
Ngondi J et al. The effect of Irvingia gabonensis seeds on body weight and blood lipids of obese subjects in Cameroon. Lipids in Health and Disease. 4:12, 2005.
Oben J et al. Inhibition of adipogenesis by Irvingia gabonensis seed extract (IGOB131) as mediated via down regulation of the PPAR gamma and leptin genes, and up-regulation of the adiponectin gene. Lipids in Health and Disease. 7(1):44, 2008.
Oben J et al. Irvingia gabonensis on body weight and bloods lipids in normolipidemic guinea pigs. Journal of Food Technology. 3: 472-474, 2005.
Qi Y et al. Adiponectin acts in the brain to decrease body weight. Nature Medicine. 10(5):524-9, 2004.
Sinha M. Evidence of free and bound leptin in human circulation. Studies in lean and obese subjects and during short-term fasting. Journal of Clinical Investigation. 98(6):1277-82, 1996.
Swierczynski J et al. Enhanced glycerol 3-phosphate dehydrogenase activity in adipose tissue of obese humans. Molecular and Cellular Biochemistry. 254(1-2):55-9, 2003.
Vinson JA, Teufel K, Wu N. Green and black teas inhibit atherosclerosis by lipid, antioxidant, and fibrinolytic mechanisms. J Agric Food Chem. 52:3661-5, 2004.
Wang M et al. Fat storage in adipocytes requires inactivation of leptin's paracrine activity: implications for treatment of human obesity. Proceedings National Academy of Sciences USA. 102(50):18011-6, 2005.
Zeman M et al. Leptin, adiponectin, leptin to adiponectin ratio and insulin resistance in depressive women. Neuro Endocrinology Letters. 30(3):387-95, 2009.
TLS Product Reviews
---
Displaying reviews 1 - 5 of 177
---
---
This trim tea keeps my weight in check
Response from Customer Service:
11/11/2020
Dear Valued Customer,

Thank you for taking the time to share your thoughts on the TLS Trim Tea! We are happy to hear you are pleased with the product.

Thank you again!
The Product Information Team
---
I have been using trim tea for four months now and noticed a big difference in the way that my clothes fit. I did not measure myself previously however, I am able to wear pants that I could not wear last year; the pants would not get past my thighs. Now they are loose in my thighs and waistline. The tea taste just like black tea and easy to drink without a sweetner too.
Response from Customer Service:
11/04/2020
Dear Valued Customer,

Thank you for taking the time to share your thoughts on the ® Vitamin TLS® Trim Tea! We are happy to hear you are pleased with the product.

Thank you again!
The Product Information Team
---
I really like adding this tea to my warm water and herb tea or just by it self! It is smoothe and tasty as well as curbing my appetite and supporting my health goals! No weird jitters, diarrhea, or dry mouth like other " diet" teas! Real food ingredients and real support!
Response from Customer Service:
10/19/2020
Dear Valued Customer,

Thank you for taking the time to share your thoughts on the TLS Trim Tea! We are happy to hear you are pleased with the product.

Thank you again!
The Product Information Team
---
Very wonderful five star
Response from Customer Service:
10/05/2020
Dear Valued Customer,

Thank you for taking the time to share your thoughts on the TLS Trim Tea! We are happy to hear you are pleased with the product.

Thank you again!
The Product Information Team